Discussion Starter
•
#1
•
Ok, let me start off by saying that I would only like to hear from committed people! I was looking at "boozted" picture post
Boozted Pic link
and I noticed a carbon fiber badgeless grill. So I posted comments about where he got it and where I could get one. Unfortunetly he got it from some guy who produces them in Hong Kong.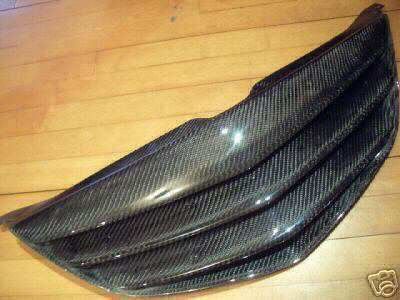 Everyone all knows Mr.Tea w/ the blue turbo 6, and he told be to contact this place called carbontrix. Now the owner of this place his name is Robert told me he could get these grills made if there was a big enough interest. Or just enought people so he doesn't waste money on a mold.
He will also be able to make these grills in fiberglass. For those people who dont want carbon fiber.
Heres the kicker I was also talking to Robert about making a carbon fiber lip for the U.S. "S" model bumper similar to this one (even though the one pictured is not carbon fiber):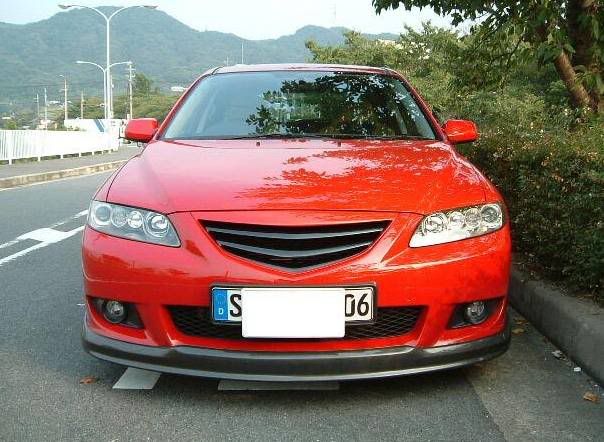 I know there is a huge following for this lip here!
This guy Robert has already made a carbon fiber a-pillar for Mr.Tea you can see it on the website, so this guy is not just "someone who knows someone!" (We all know a person like that) Anyways back to the point, this guy is legit check out his website ----------->
CarbonTrix
. He has a ton of carbon fiber parts for the evo's, so this guy can produce quality parts.
His shop is located down here in socal, so I will be visiting it next monday. I will be willing to sacrifice my newly aquired badgeless grill that I got from Falcontx's GB, for a nice quality carbon fiber one.
NOW REMEMBER THIS IS ONLY AN INTEREST TOPIC. So prices will be posted after he sees that there is a defininte interest.
If we can get enough people interested, and to leave credit card #'s/ paypal accounts
WITH Robert
he will start the R&D.
HE WILL NOT TAKE MONEY OUT UNTIL PRODUCTS ARE READY TO BE SHIPPED OUT.
Do not be scared that he will rip you off, he owns a legitimate company they do orders over the phone/ internet for there other clients. Robert just wants to see committed people who are really willing to get these parts made! Mr.Tea has delt with Robert before so he knows thier legit, and I will talk to him directly come next monday.
I will be the first one in line
!
Update 4/17/06:
_____________________________________________________________________________
Ok, I just got back from carbontrix a little bit ago. I got us all prices of how much these grills and lips will be to produce.
The grills are gonna be $160 for the fiberglass version and $225 for the cf version. The fiberglass version is going to be high quality kinda like the mint blue grills. For example the grills that we got from Falcontx's gb had issues w/ little tiny bubbles in the fiberglass and some not fitting correctly. Not saying that these grills were poor quality, but the ones carbontrix will produce will not have these issues. This is because its going to come from the same mold as the cf grill. Also we wont have to worry about damages in shipping since they are located in socal not Hong Kong.
Robert was telling me that the cf molds must be perfect in order for a nice fitting, quality mold. If the molds are not perfect thats where you'll get the imperfection with the cf (like grade B cf hoods: poor fitment/ crooked weaves, etc.) Fiberglass molds dont need to be perfect since the prep work before painting will take care of all the imperfections. We will need at least 10-15 people for both fiberglass/ cf grills for Robert to start producing these.
So not 10-15 people for each version grill, a total of 10-15 for both
. LOL, I dont know if that makes sense
?
Now for the lips, the fiberglass version is going to be $260 and the cf version will be $365. Same rules apply for the lips as far as the mold quality/ fitment with the fiberglass versions. Here's the hard part about producing these lips. We dont have an original version of this lip, so Robert will need to start from scratch. Robert is going to need a donor "S" version bumper and
maybe
a donor car. This is because when the bumper is not mounted on the car it tends to flex and sag. Not retaining the same shape as if it was mounted on the car. Robert would like to have a perfect fit for the mold before he even considers production of these lips.
Please remember that the prices are subject to change
. Robert told me that the prices of the grills will probably stay the same with no suprises. But the lips are ballpark figures, Robert says he will have to make a couple calls and get back to me on the lips. The quality and fitment will be top notch, not cheap stuff here.
So let me know whos still interested. I will need a definate count before I contact Robert again. This means people who will be willing to leave a credit card # or paypal info, along w/ contact info etc.
CF/ Fiberglass Grill:
1. SoSoMazda6
2. Armgdnman
3. Justins6s
4. DigitalAssassin
5. kain
6. UNSANE
7. zumoney
8.
9.
10.
11.
12.
13.
14.
15.
CF/ Fiberglass Lip:
1. SoSoMazda6
2. Armgdnman
3. Iluv2zmzm
4. Justins6s
5. SLVR04M6
6. king_lam925
7. kain
8. venom
9. UNSANE
10. critical6
11. m6inVan
12. CvilleSix
13. atenza43
14. FakterX
15.
16.
17.
18.
19.
20.
21.
22.
23.
24
25.