Discussion Starter
•
#1
•
i started a thread across the net, and figured id post up here, what i have been doing since i got back from the National meet. im just gonna copy and paste everything.
________________________________________________________________________________
__-
TIMELINE AND UPDATES:
july 19th -
well, as some of you may know. i have my tranny out of my car so i can get our LSD group buy finished up. I have the Prototype and it will be installed shortly.
Anyway i started thinking. I have the subframe and and a bunch of other stuff out of the way, so why not just install the turbo kit now while i have massive amounts of room to work?
Today i started removing my MSDS headers from my car. I pulled my tranny friday evening and sent it to the shop. i was gonna install the diff myself. but i dont have the gauges needed to calculate the preload for the new diff bearings. so im letting a shop do it. the only shop in the area i trust with anything with my car.
So in the meantime. im throwing on the manifolds and turbos and y-pipe. i will do the intercooler piping and stuff once the tranny is back in because i'll need the room to put the tranny in.
Anyway as of right now......
1. ypipe is out
2. midpipe is out
3. all o2 sensors are disconnected
4. egr is disconnected
going back out to remove the rear manifold and possibly the front if i have the energy today. the front bank header is the most difficult due to space.
anyway, the time has come. time to turn a new page in Punisher 6 history. stay tuned. i will try to update with pics and shit.
teaser vid:
July 20th
Ok, looks like the way the front manifold is designed i'll be having to take out the raditator and shit, so i can get access to the head and not cut myself to death or have a kink in my hand for the next two years. for one of the bolt holes for the rear manifold, i need a shorter bolt to swing it in, unless i use the old stocker studs, which i dont want to. so i'll be looking thru the nutz/boltz bin at my job tommorrow.
pre-lubed the rear turbo tonite. will be cutting my front bumper support tommorrow as well. i have to get some containers to drain my coolant into so i can get to the front manifold.
FWIW.........i cant even see how i got those damn headers on the motor without taking the radiator out. what im gonna try is see how difficult it is to pull the fans and fan shoud. if i can just pull those without it being too much of a hassle, i will have plenty of room to work the header out and manifold in.
progress......not too much was made tonight, but i did figure out, that to get the front bumper support off, almost the entire rad support and some other things come with it, if you dont disconnect a bunch of other shit, jesus, mazda couldve made this shit a lil easier, lol
July 22nd
lil update.........
tested the wastegates as i always do before installing them. and one is seized up and doesnt function properly. so i just ordered two new ones. and will have to modify the shaft and shorten them when i get them so they fit.
i just got my AWR front sway endlinks today. i should be getting my RB front sway in the next day or two, i hope. so i can mount that on the subframe while its out.
The transmission should be back to me tommorrow or friday, so while i wait on the wastegates to come, i will pop the tranny back in. and just leave the subfram out until i put the turbos in because i i have more room to work with.
tommorrow, i will be swapping out my injectors and buying my one step colder plugs. once i turn up the boost i'll go 2 step colder. i have the part numbers and etc from NGK, iirc, dave(quick performance and concepts) will more than likely be stocking these for those who go insane all motor or boost. i will also be trimming up the bumper support to make it a lil smoother and get rid of the sharp edges and mount the Intercooler.
i ran by the junkyard today and put a deposit down on the entire passenger side front hub and spindle and steering knuckle from that junkyard 6 since my wheel bearing is shot, and for some strange reaason mazda decided to stop selling the hub assemblied with the bearings(just another way to make money)
i also had a bad throwout bearing for the longest since i used the TO bearing that came with the clutch kit instead of the mazda one. so i ordered one from sheldon, and that should be here before the weekend as well.
As u can see this project is basically nickel and diming me, but for those who have built motors and done builds on your car and other peoples cars. you know thats just the nature of the beast. and i almost always plan to spend 2-300 bucks over the intitial budget, lol
i have to adjust my oil plate for the oil filter reloc kit thats on the stock place for the oil filter, becaue i test fitted the turbo and mani on the front and it hit the hot side. so it has to be turned back counterclockwise alomost a half turn. so i will remove it and spin out the thread sleeve a lil bit that goes into the block. while im there i will be swapping the oil pan for the tapped oil pan. my oil pan has never been off, so i should be good with just reusing it. if not.....ultra copper FTMFW!!!
but for now thats all i have. keep in mind i need to have all this done by no later than thursday of next week to give me a day or two to throw a base tune on it. so i can make my show on saturday August 1st, lol
its crunch time now, due to the lil issues. but i will pull overtime this weekend, luckily all i have going on this weekend is my club meet to dicuss our upcoming show!! Phew!!!! im tired, lol
July 23rd
fit tested the bumper with the Intercooler in place. have to do some minor adjustments and raise the IC about a 1/4" for it to be centered vertically. horizontally i have it dead on.
i just got my front Racing beat Sway Bar and my throwout bearing today, so the sway will get installed on the subframe tommorrow.
my tranny is due back from getting the LSD put in tommorrow as well. so in goes the TO bearing tommorrow, and i will probably put the tranny back in tommorrow as well.
im waiting on my new wastegates to show up, should be here tommorrow or saturday. once i get those, in goes the turbos.
July 25th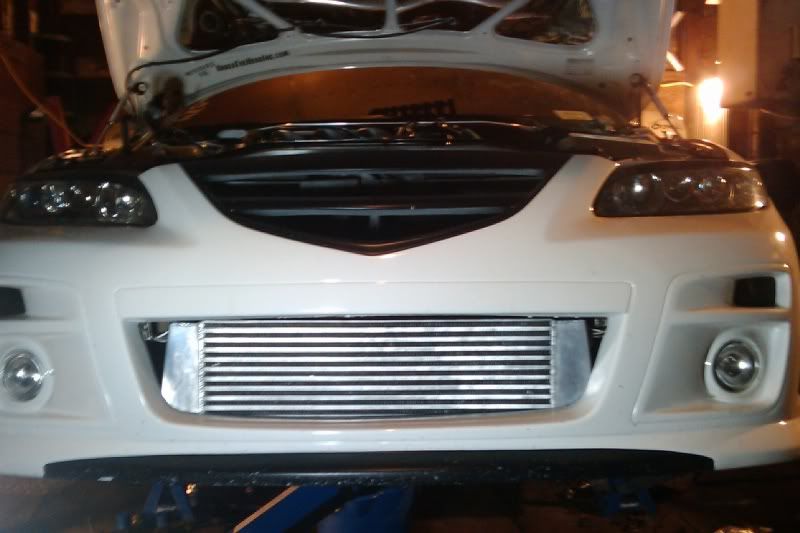 well intercooler is mounted. Front sway bar is installed on the subframe. didnt get the tranny in tonite like i wanted. my boy stood me up, NO ****.
so i'll get crackin at it tommorrow. some progress is good progress i suppose, lol
tommorrow i'll deal with the wastegates, i'll probably have to go out and get a die just for this, lol, but it has to be done.
July 27th
anyway got some small updates and a few pics. today i modified my wastegate brackets to fit more to my likeing. i totally didnt like that way it was setup. so the wqay i did it will control boost way better. i swapped out my oil pans. i have a tapped one on there now thats tapped on both sides. i used an 03 oil pan, it is the style that wasnt using the rope style oil pan seal like the newer (04-newer) mazda 6. so i used my favortie "ultra copper" this stuff has yet to fail me. i got the rear turbo and manifold fully mounted, only thing left is to hook up the down pipe and intake. i got both axles back in as well.
i still have to rotate my oil filter reloc plate to make room for the front turbo, i think i'll work on that tommorrow. i have all the tranny plugs and stuff wired back in. still have to bolt up the clutch slave, which i'll do tommorrow.
the 03 pan bottom bolt hols which attach it to the trans bell housing is a lil off. it sits about an 1/8" higher than the threads that the bolt goes thru. so im gonna oblong the holes a lil bit to reinstall those two bottom most bolts. it took me about two fucking hours to modify the wastegate rod after i did the bracket. but im happy with it. because it will control boost better than how it was setup initially.
anyway here are a couple pics:
OIL PAN: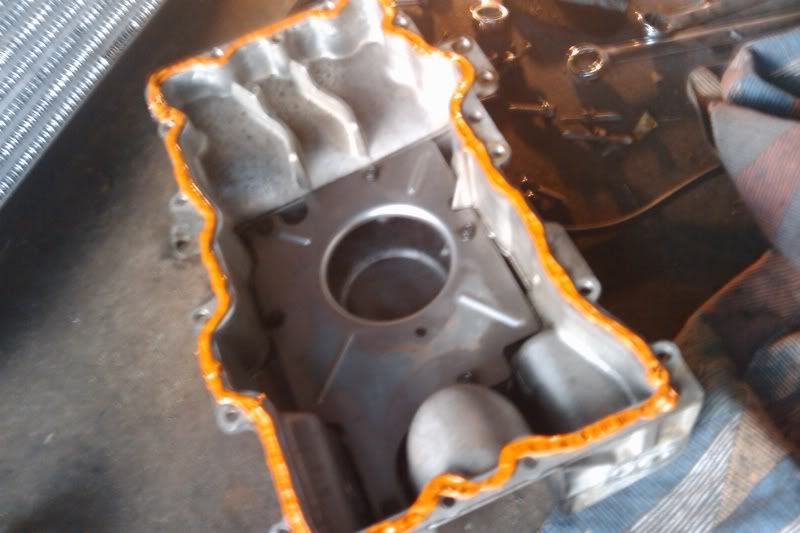 BOTTOM OF THE MOTOR(windage tray and oil pick up):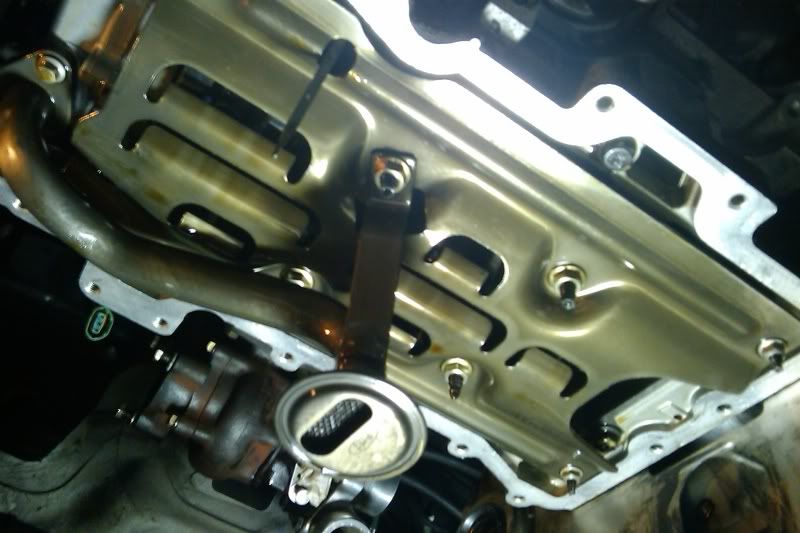 REAR MANIFOLD AND TURBO: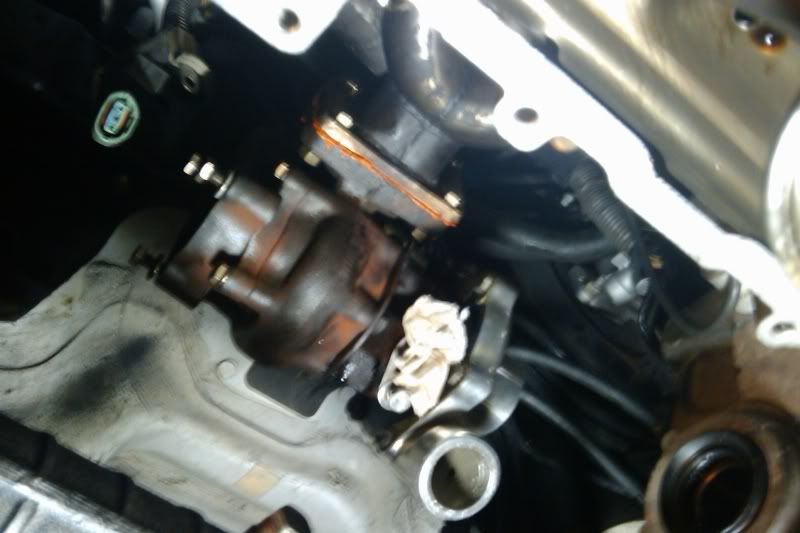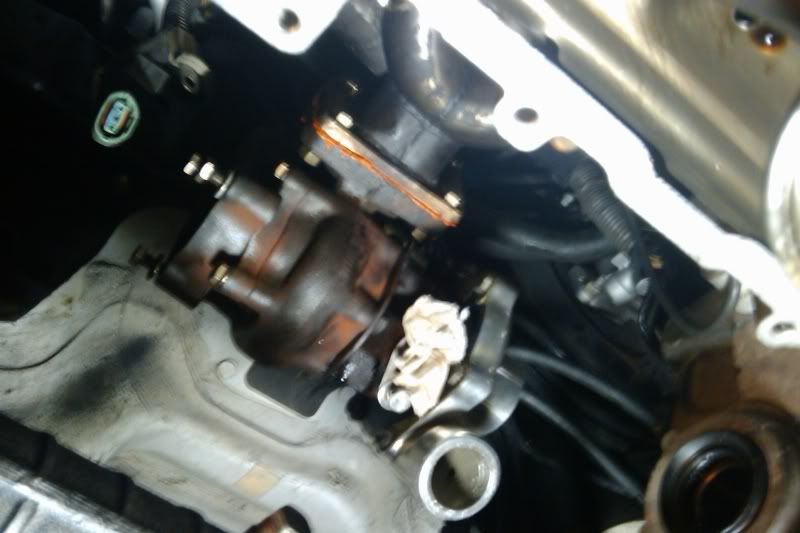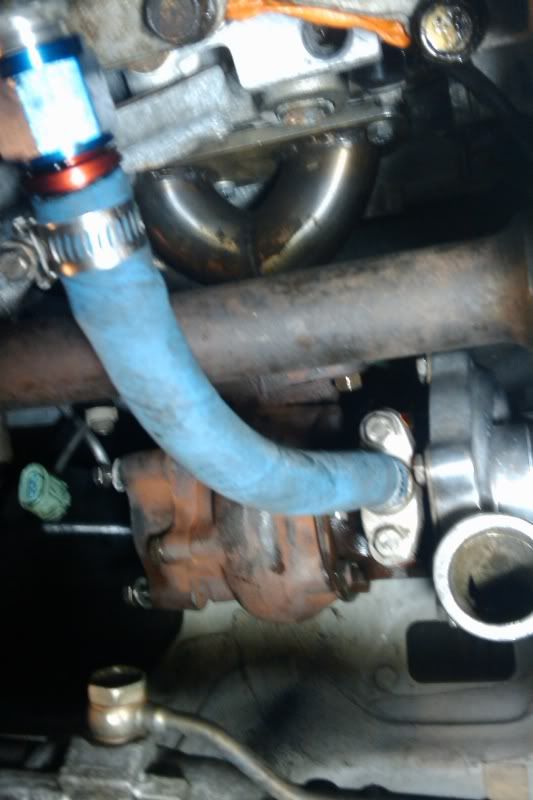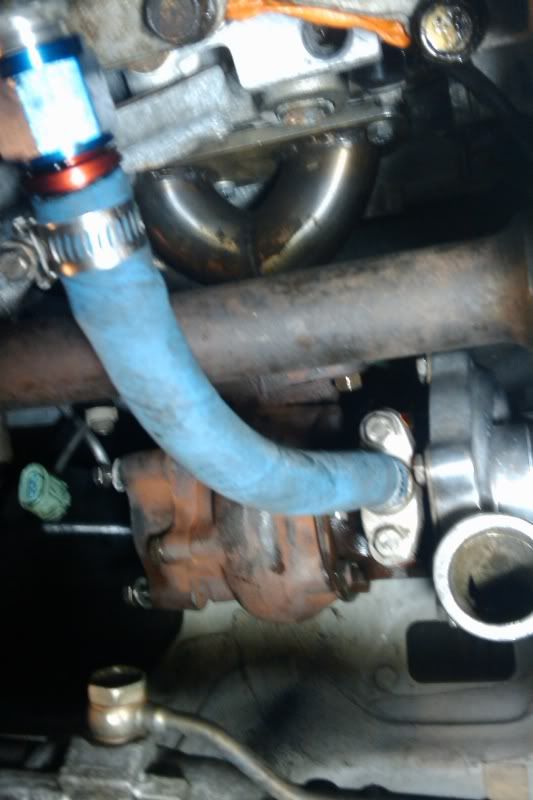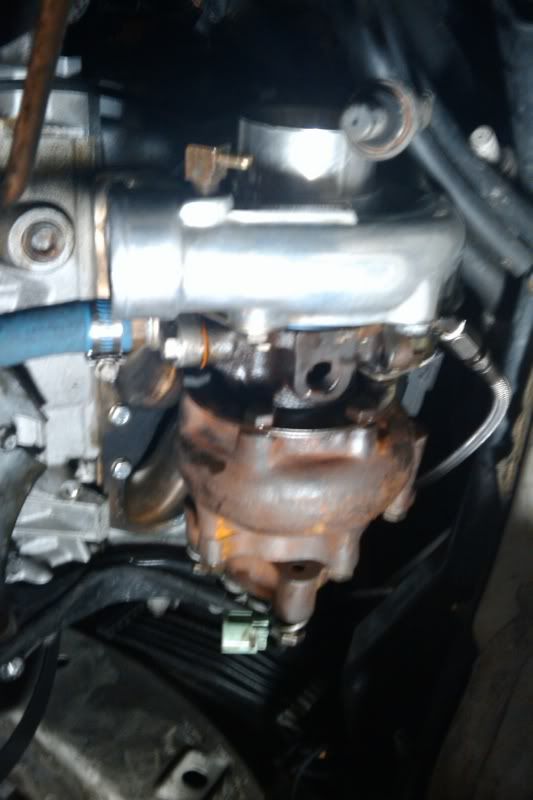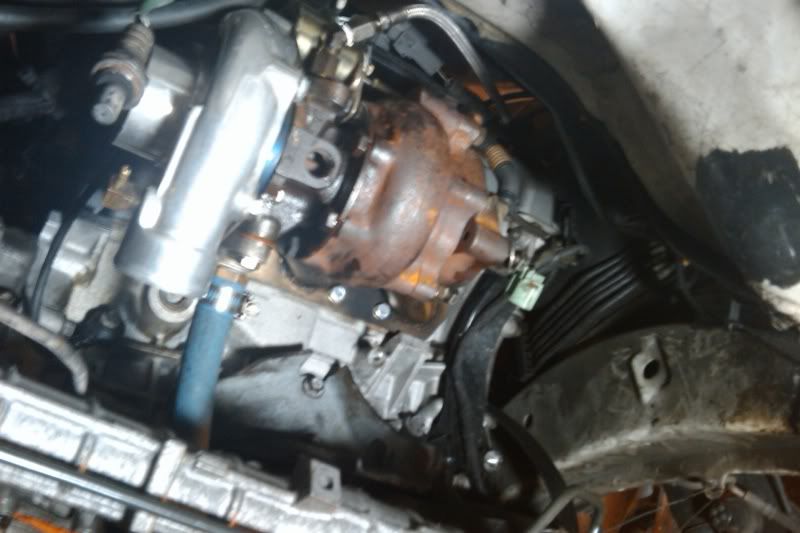 sorry if the pictures arent superb, but again, i lost my real camera, so im stuck using my G1 and a droplight for the time being.
July 28th
i picked up my one step colder NGK plugs today on my lunch break, i got them delivered to a parts place near my job. im gonna be running one step colder initially to see how the car reacts. if i need to go two step colder then so be it.
well, on my way out to attempt to get this front mani and turbo in.
July 29th
UPDATE:
ok, its 12:40am........ i just go in the house from working on my car about 15-20 minutes ago, yea late night.
anyway, today wasnt all that productive, but then again it was. i spent 2 or more hours running around trying to find some fittings so i could T off of my stock oil pressure sender to feed the turbos. unfortunatly thru those 2 some odd hours, i could not locate a fitting that would fit the stock sender and the other peices as well.
what this means is that i will now be feeding my turbos from the port on my head. no worries this is safe if you were wondering. evo guys do it, and its normal, more common to use the stock oil pressure sender port, but thi is the other way to do it.
anyway, i wound up having to remove my ENTIRE front end today in order to mount the front manifold and turbo. i tried everything to get it bolted up without removing more shit. i had to remove the ac compressor, un bolt the front bumper support and undo the radiator to be able to move it forward and give me more room to work on the bolts.
anyway, i got the front mani and turbo in, so now i'll be able to do the downpipes and y-pipe tommorrow, along with some intercooler piping and shit. like i said i think the hardest part of this install was gonna be the front turbo and mani but thats done now, so it should be smooth sailing.
one thing im kinda sketchy about is my oil adatper plate, i had to turn it back to keep it from hitting the exhaust housing of the front turbo. i think its tight enough but not as tight as i like. i added some ultra copper to it, to kinda try and help it from leaking or turning back. we'll see what happens when i start the car.
anyway, heres a few pics of the front manifold and turbo: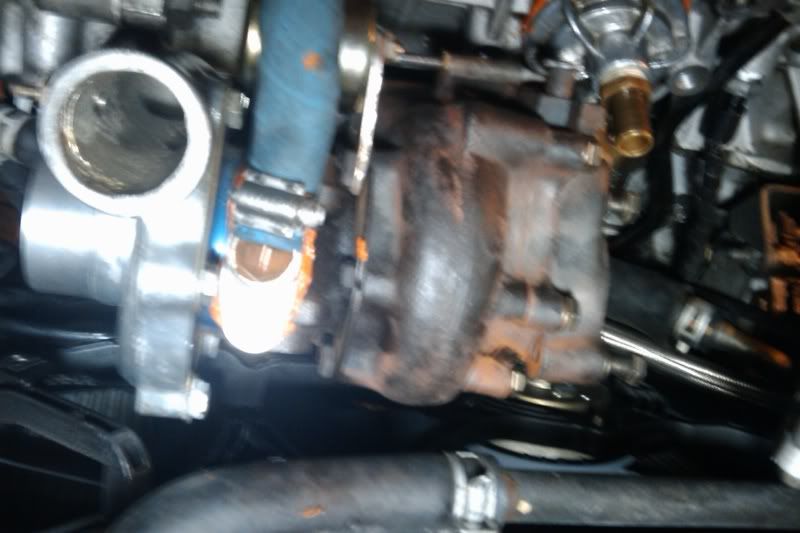 and one more of the rear setup
its past my bedtime, lmao!!!
July 30th
well, today i put back in the subframe. i had a friend of mine come thru and take a look at my exhaust. i have a 4" gap between the turbo collectors and the rest of the exhaust. so he is gonna see what he can do about that tommorrow.
i have the lower intercooler piping on. but looks like i will be replacing the first outlet hose on the rear turbo, it gets sliding off everytime i get the clamp tight. it has some oil residue on it, so im just gonna replace it for now with whatever i can find if i cant find reinforced coupler.
both turbo intakes are on and connected, starter is back in. trans. linkage is attached. steering gear is in place. whats fucked up is the last bolt on the steering gear stopped about a 1/4" from being fully tight. i dont think i cross threaded it, but its tight as hell and i cant turn it anymore. im gonna double check it tommorrow. if its messed up, i will try to fix it while the subframe is still in the car with a tap and die. if i cant fix it that way, it will have to wait till after the show.
still have to swap steering knuckles(some may know it as the spindle or hub) i just havent gotten around to that. i think that will take about 10-15 minutes or so anyway(i hope, lol)
i have to extend the wires of the rear bank upstream o2 sensor, the bung for that one is too far for it to reach. i'll tackle that at my job tommorrow.
i finished up my oil t block in the head and made it a lil prettier today, lol.
all thats really left is fixing my exhaust and hooking back up the ball joints and sway endlinks and run the rest of the IC piping. i just hope nuthin leaks when i start the car. i have checked, double checked, and checked again the connections to everything and used teflon tape on all brass fittings.
here some pics:
TWIN FILTERS BABY:
LOWER CHARGE PIPING: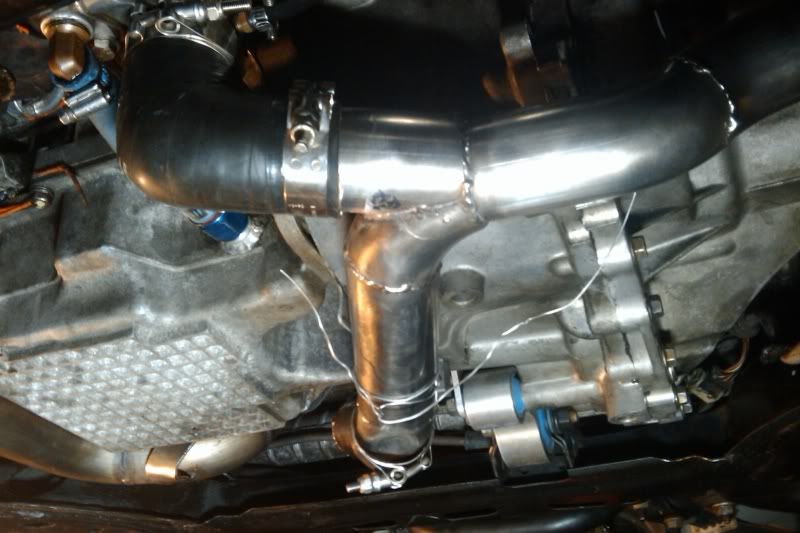 OIL FEED BLOCK:
its probably gonna be a no sleep friday tommorrow
AUG 1st
Punisher 6 is now Twin Turbo. On Her Way to a car show, just in the nick of time she is done.
new improved punisher 6 Twin'd Up and LSD'd out!!!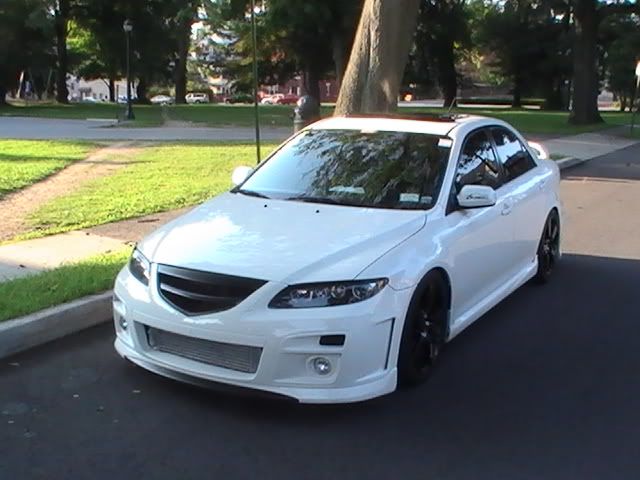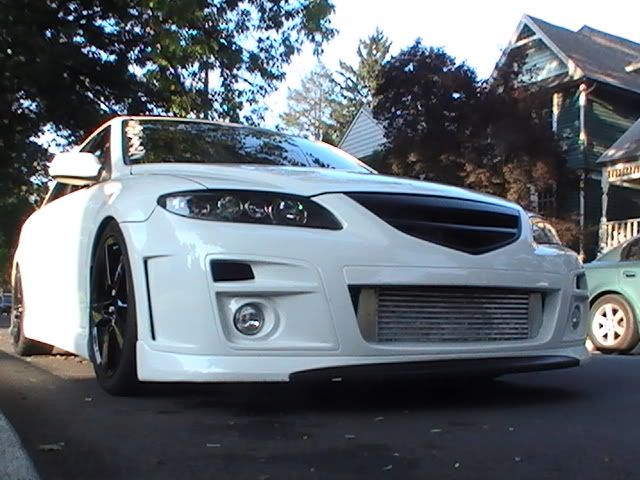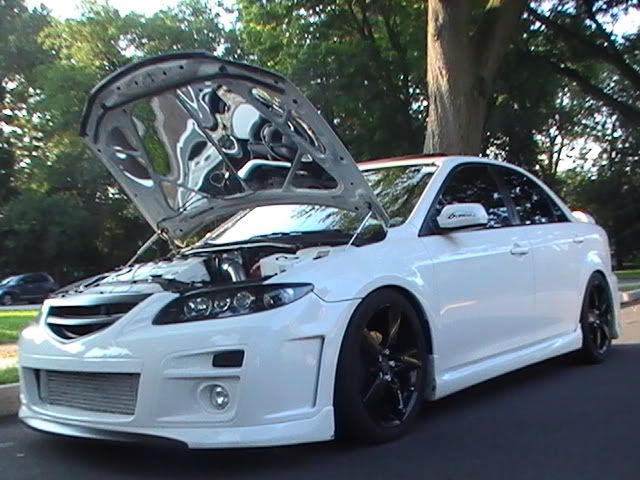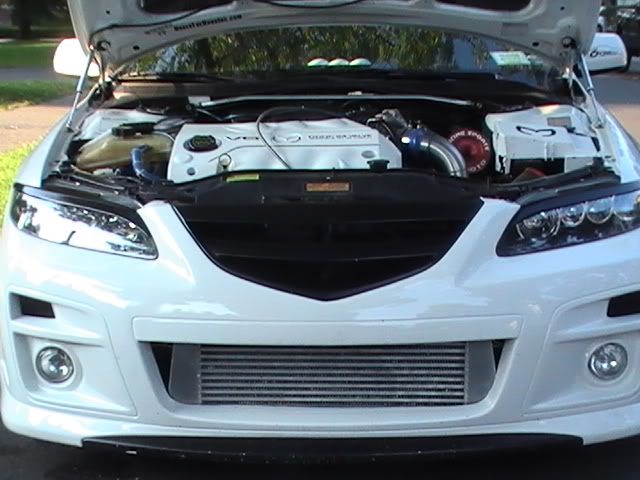 Aug. 3rd, 2009
swapped my stock 24lbs injectors for my new Seimens Deka 60lbs injectors - car would not idle....got it on the road, and the motor flooded with 90% fuel taken away.
reinstalled my stock injectors to make it back home.
Aug. 4th-5th, 2009
while i have my Stock injectors in, i figured why not tune with them, so we know our limits. running the stock injectors to 7-7.5psi, the car begins to go dangerously lean at 5500rpms
they flow enough for 5500rpms maxed out on their duty cycle at 7psi or so.
Aug. 6th, 2009
contact the manufacturer to send back the 60lbs injectors for the next size down which wound up being 42lbs injectors, but at our rail pressure they are more like 50's
Aug. 11th, 2009
My new 42lbs injectors arrive, so i install them to see how the car like them. and what do you know?
fine tuning starts tommorrow.
I WILL KEEP THIS UPDATED AS I PROGRESS!!!!
Aug. 23, 2009
UPDATE:
got my turbo timer in today and hooked up. its not mounted yet because i still have to wire in my Boost controller as well, and i have a nifty lil hiding place for both that i will show you all later.
Anyway, the wiring diagrams for the ignition on alldata are off a lil bit, wire colors are wrong. and stuff like that. so im glad i had my multimeter with my to test leads and find the correct pins, because alldata was no help in that deparment.
Anyway, the turbo timer can be wired into our car. for reference i have the Greddy Full Auto Black turbo timer. this unit has an auto time feature that can calculate run times from speed traveled and ETC, by wiring it into the the Speed sensor, unfortunatly our V6 with ABS, does not use a speed sensor on the tranny like most cars. so i havent found a way to use this feature yet by tapping into the ABS system(which is how the car monitors speed), im gonna try tapping one of the wheel speed sensors and check for voltage and ETC, and see if it can work there.
Anyway, the doesnt skip a beat when the key is taken out of the ignition. I have done installs on cars where, sometimes the car would stay running, sometimes the car would lope and catch itself, and sometime it would work properly. But it works flawlessly on our car.
There is a Hitch tho,
for those of your looking to boost, and utilize a turbo timer. there is a small trade off. when the key is removed from the ignition and the turbo timer is active, you cannot use your fob to lock the doors behind you when u leave the car. using the turbo timer disables the locking/unlocking function of the security system until the timer shuts the car down. only then can you lock the car with the fob.
BUT!!!! you can lock the door by manual pressing the button on the doors and the security will silent activate when the car shuts down.
Now this may not pertain to aftermarket security systems, but for now this does pertain to factory alarm. so dont freak when u cant lock ur doors from the fob with the install of a turbo timer until the car shuts down.
Aug. 25, 2009
UPDATE: 8-25-09
ok, so today i had my buddy come thru with his mig welder to do some work on Punisher. Again for a refresher of hat i was working on.
The designer of the setup found the need to mount the BOV behind the MAF (inbetween the MAF and the T
what this does is cause vacumm/boost leaks as well as the loss of Metered air inbetween shifts which cause a very rich instant between shift. not necessarily gonna kill the motor, but will cause issues with tuning and drivabilty. because AFR will always be fighting and changing to try to keep what you want.
IE- prior to changing the setup up my AFR was about 10.7-10.9, now.....sometimes this would go to 11.4afr randomly due to a possible flutuation in the AFR because of positioning of the BOV.
anyway, i now have my BOV tucked nicely behind my intercooler on a nice str8 stretch of pipe before hitting the MAF. distance between these to items in a turbo setup are very key to the funtionality of the car and overall drivability. if either are too close to each other, it can create turbulance and skew sensor reading and throw off afr. the MAF should generally have about 6-8" of str8 section before the air hits the MAF. and about the same behind it, to calm down the swirl effect.
the car idles better now as well, AFR's are closer to STOICH than before the switch.
also, i finally have my boy Scanpro, so i had the chance to monitor my fuel trims last night. and i must say the car drives a lot better and reacts so much faster with fueling now that i have my trims precise.y dialed in for idle and cruising. before i had the scanpro i just cut 50% of fuel as an around about way to get close since i was a lil more than doubling the injector size. upon first start up and drive, i noticed the STFT's were sitting at about -20 for both banks, when it was all said and done at -58 on my fuel maps up from the -50, my trims were at zero +/- 1 or 2 during throttle input and release.
and with this i have also noticed that the transition from closed to open loop fueling has come at a faster rate. that brief lean hit is almost completely gone. as soon as i stomp on it, and the MAP senses boost, im in my open loop/boosted fueling almost instantly.
of course its not perfect(my map) cause im still working on it. but the difference is amazing with the fuel trims in order and the setup now the way it is supposed to be.
Now onto changing my plugs to the new one step colder ones from NGK. i been tuning on the stockers with a reduced gap so not to foul my new ones. and i have a lil miss at idle now. so plugs should be changed today.