Hi all,
I am new to Automatic transmissions and am looking at changing the ATF. I have been warned against changing burnt/dirty fluid as that could allow the transmission to fail if it is damaged. I do not know the full vehicle history but I do know the previous owner didn't change it. I got it with 167000 on the odometer and the last owner put over 100K on it. I do not know the original fluid color but here are the samples.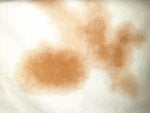 This is directly from the transmission. The light was adjusted for the best color match to reality.
This was after drying for 30 minutes.
Regarding usage, this car was driven for the last 100K on a 140 mile daily college commute all on interstate highway with cruise control. Any and all feedback is appreciated