Discussion Starter
·
#1
·
well it only took two tries, the 1st box set up didnt fit in the trunk. it was to large. kinda depressing when u measure everything so many times...
but heres version 2. i realized with the last box i could get them in the trunk, but not facing forward, only sideways. so i adjusted my measurements, and made them skinnier, but longer, so i could keep my 3.5 sq feet per sub.
heres the box as it sits now.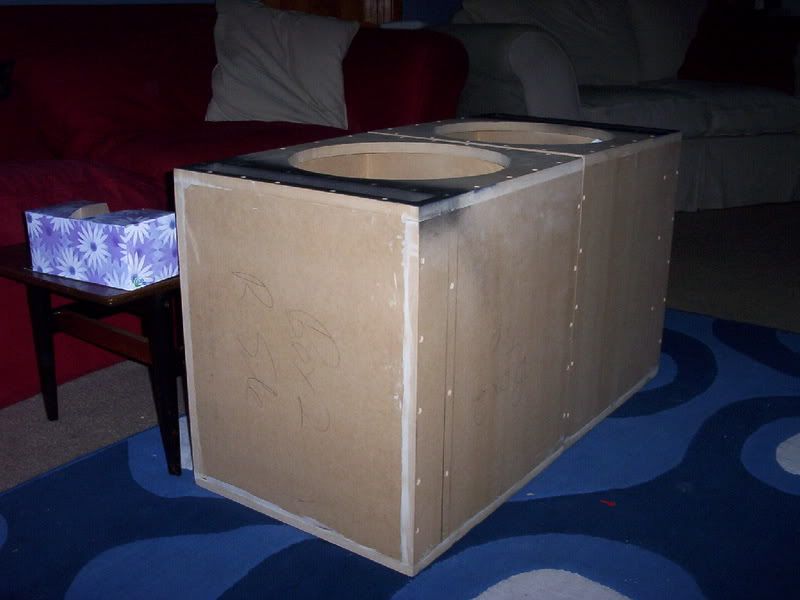 obviousely i had to do it in two seperate box's just to fit it in the trunk. they will be joined together in the trunk as one.
i allready have the materials for covering them, im using a light gray for the top, sides, and back of the box. the front is getting a 1/2 inch trim plate that will be cut around the subs, has all 1/4 inch beveled edges, and is covered in black vinyl. so u will not be able to tell it was two seperate box's at all.
just with the empty box, and 100 SQ feet of fatmat in the trunk, the stock suspension in the rear has the tires level with the fender. and i still have 140 pounds of subs, 2 very heavy amps, two kinetik batteries, and a bit of 0/1 gauge to install. im definitly gonna need to do something about the suspension.
here the set up so far.
the full set up is two 1500 watt RMS, 2500 watt peak 15 inch ground zero nuk's.
2 MTX 8100D 1500 watt RMS @ at 2 ohm. modded for 1800 watt RMS @ 1 ohm
keeping the stock deack, but bought the jl audio cleansweep to handle the aditional wiring, and just to see how it works out.
the batteries are 2 kinetik 2400's. 1 located on each side in the fender well. there litterally is no better battery made.
all wiring is 0/1 gauge stinger.
thats just what is purchased so far, im still in the process of buying a few odds and ends to finish it up.