This is the same kit as
TiGraySpeed6
used, which is from
ESB Jiu JItsu
.
My point in making this thread is having it as a compilation of many others, and adding several important tips to make it much smoother/easier on those tackling this in the future.
I found this to be the cheapest way to buy the parts:

My order, with links:

TOTAL $232.17 with shipping, or just $220 without the hot side reducer (not needed, looks only)
Search eBay for the titles if links don't work:

CXRacing 28x7x2.5 Intercooler + 2.25" PIPING KIT
2.25" TURBO BLOW OFF VALVE BOV ADAPTOR FLANGE PIPE TUBE
Mazdaspeed 6 Greddy Type S RS R BOV Adapter
2.25" - 2.75" 57mm to 70mm Silicone Reducer Hose
2" to 2.25" 51mm - 57mm Silicone 45 Degree Elbow Reducer Pipe Hose (not needed, looks only)
Additional, Miscellaneous Parts Needed
2 M6x1mmx50mm bolts and lock nuts (Hardware store, used to secure BPV to adapter plate)
2 to 3 Worm clamps ($4 Home Depot, fits 2.25" size) (Or order more 2.25" T clamps online)
Aluminum 24"x12" plate (Home Depot $10) + small sheet metal screws to secure to car
Fine and Medium hack saw blades (trimming and cutting crash bar/pipes)
Dremel cutting bit (Home Depot $6-open grille holes)
1.25" heater hose from O'Reilly Auto Parts ($3, need less than a foot)
Routing and cutting tips:

Turbo
2 to 2.25 Reducer 45 deg. Elbow Coupler (use OEM, new 2.25-2" reducer not needed)
2.25 Pipe 30 deg. Bend + straight (cut a 45* pipe about halfway from the middle, insert shorter end into turbo)
2.25 Coupler
2.25 Straight Pipe (use the piece you just cut off, roughly 6")
2.25 Coupler
2.25 Pipe 75 deg. (no cut)
2.25 Coupler
2.25 Pipe 30 deg. Bend + straight (cut a 45* pipe 3" from the middle, shorter side goes into the 75* pipe's coupler)
2.25 Coupler
2.25 Pipe 75 deg. (cut about half from the side mating to the 45*
2.25 to 2.5 Reducer Coupler
Intercooler
2.25 to 2.5 Reducer Coupler
2.25 U Pipe (cut a U pipe from both ends, you will get a 90* pipe, with one side slightly longer)
2.25- 90 Deg. Coupler
2.25 Straight pipe (no cut)
2.25- 45 Deg. Coupler (or cut a 90* coupler, easier to buy the kit with one 45/90* coupler)
2.25 BOV Flange Pipe (shorten the end going into the throttle body, about 2-3")
2.25 to 2.75 Reducer Coupler
Throttle Body
You will have an extra straight pipe and U pipe left over
Middle refers to the V of each pipe
Cut pipes using a hack saw with medium metal blade, file the edges and rough up the area where couplers will go using a file, since you have no bead rolled ends on the cut pipes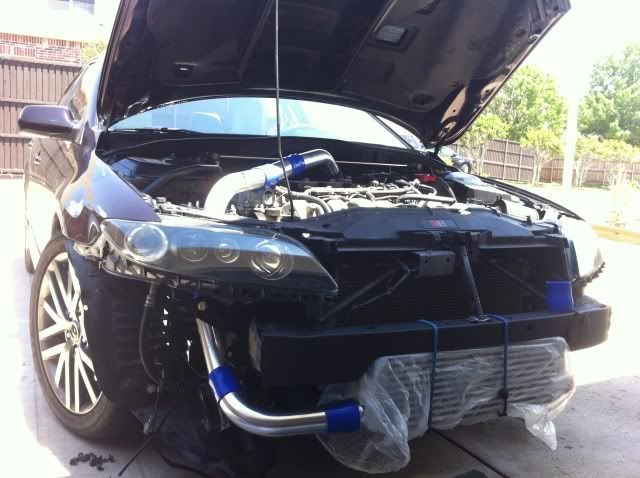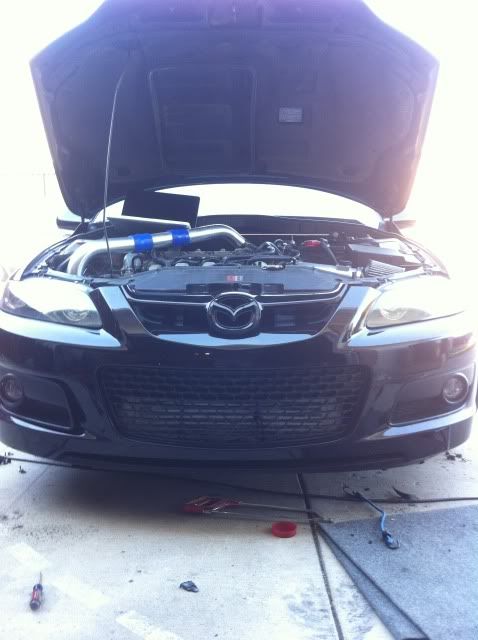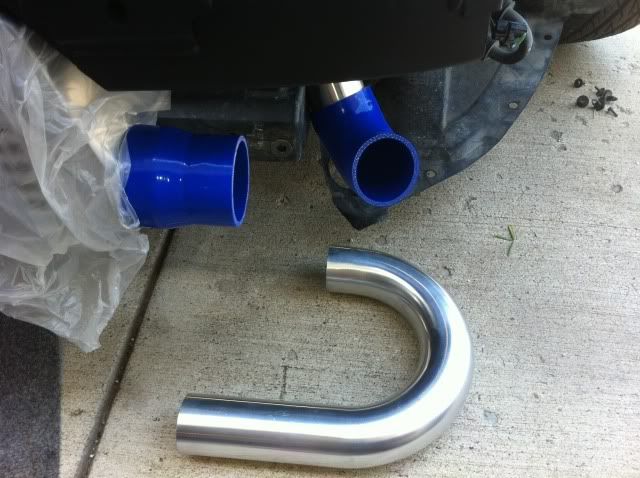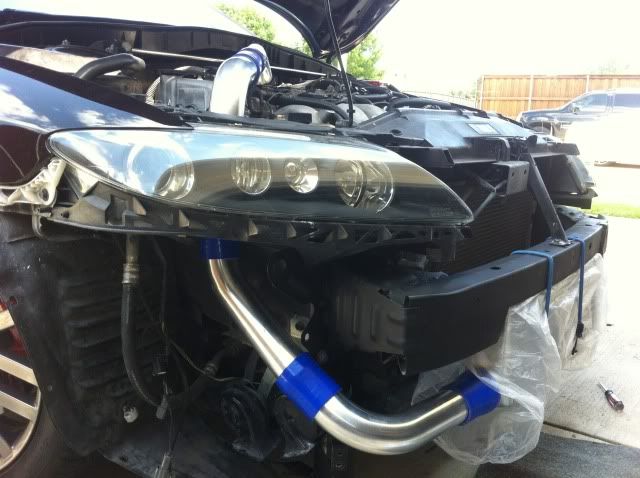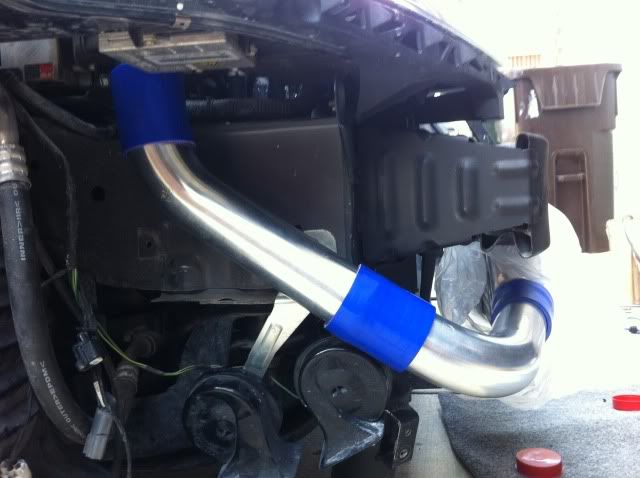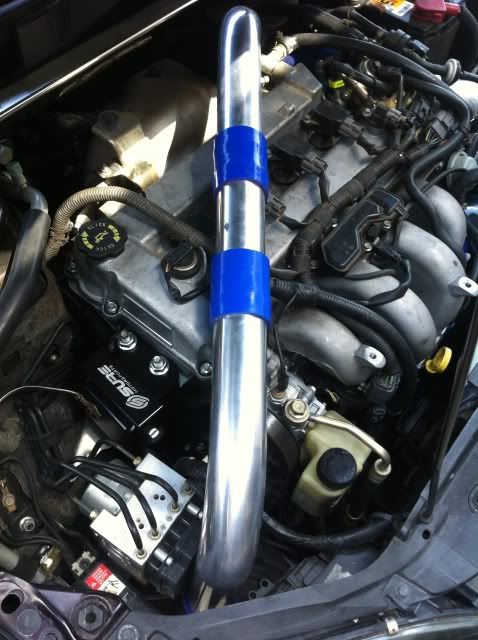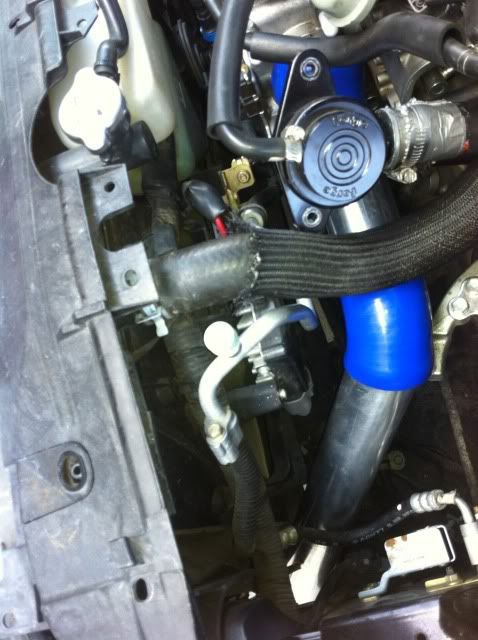 Note*
The
BPV
adapter plate is secured to the BOV pipe using the longer of the 2 supplied M6x1mm allen bolts (screwed through the bottom of the pipe, into the plate). Use 2 new/longer M6x1mmx50mm bolts/locking nuts to secure your BPV to the adapter plate (50mm is length & 1mm is thread pitch).
You will also need to buy some heater hose to replace the re-circulation tube (1.25" heater hose from O'Reilly Auto Parts). Or, trim your OEM BPV tube.
Note*
If you mount the IC with the two mounting holes further towards the radiator you will not need to cut up the fog light covers!
Note*
Reuse the OEM worm clamp securing the coupler to the throttle body (or buy a 2.75" T-clamp if you want to upgrade)
Note*
You WILL be cutting a hefty portion of your
wind diverter
on the bumper. You need to cut in a straight, even line, while leaving bolts/mounting points intact, see the pic further below for reference. I used a hack-saw to cut this.
Note*
You WILL need to cut the
fog light structure
. Remove the fog light covers and you will then see where things are touching when you try to put the bumper back on-cut as needed. You will need to remove the two bottom clips from the fog light cover too. I used a hack saw to do all this cutting.
Note*
Mounting the IC
- the thread pitch is M8 x 1.25. I mounted mine by drill 2 bigger holes on the top of the crash bar, large enough for a socket to fit into, then 2 smaller holes on the bottom of the crash bar, just large enough for the included bolts to fit through/into the IC below.
Note*
You will want to zip-tie your piping to keep it from
rubbing
anywhere once done. I placed secured the piping running over the engine to the black engine lift loop, and another just above the horn bracket.
Also, remember to remove the OEM TMIC ducting from the hood or it won't close.
Note*
*
You need to move the ambient temperature sensor, as it sits behind the intercooler, which will give you false readings. I drilled a 1/4" oval hole and mounted mine as follows.
Before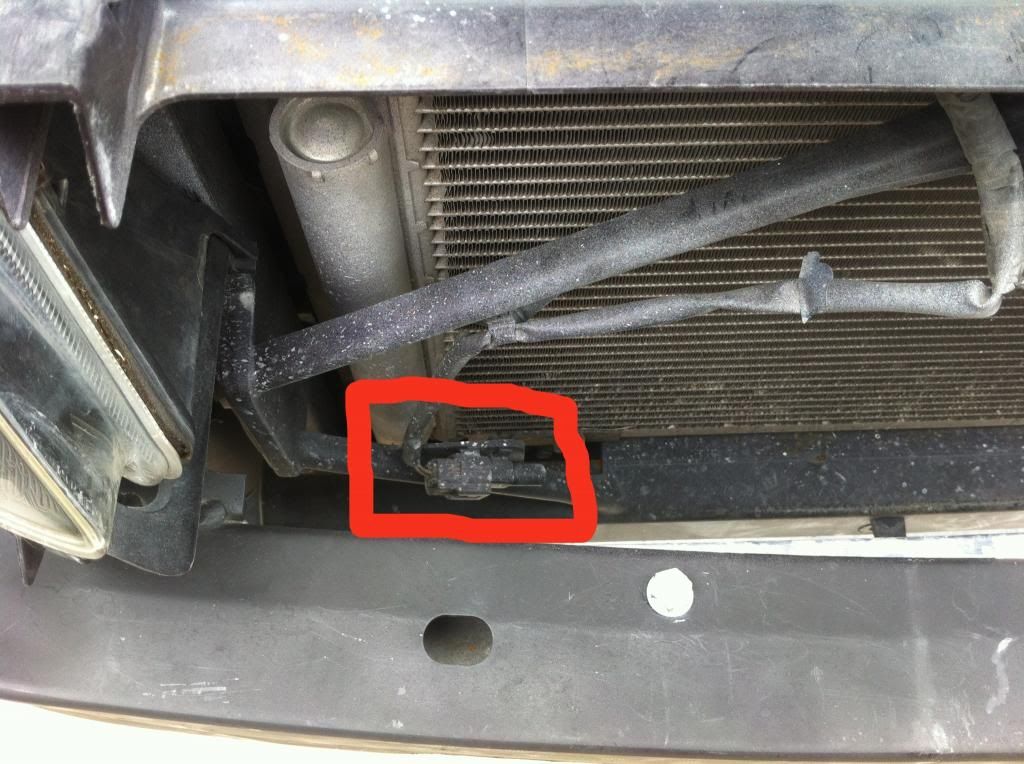 After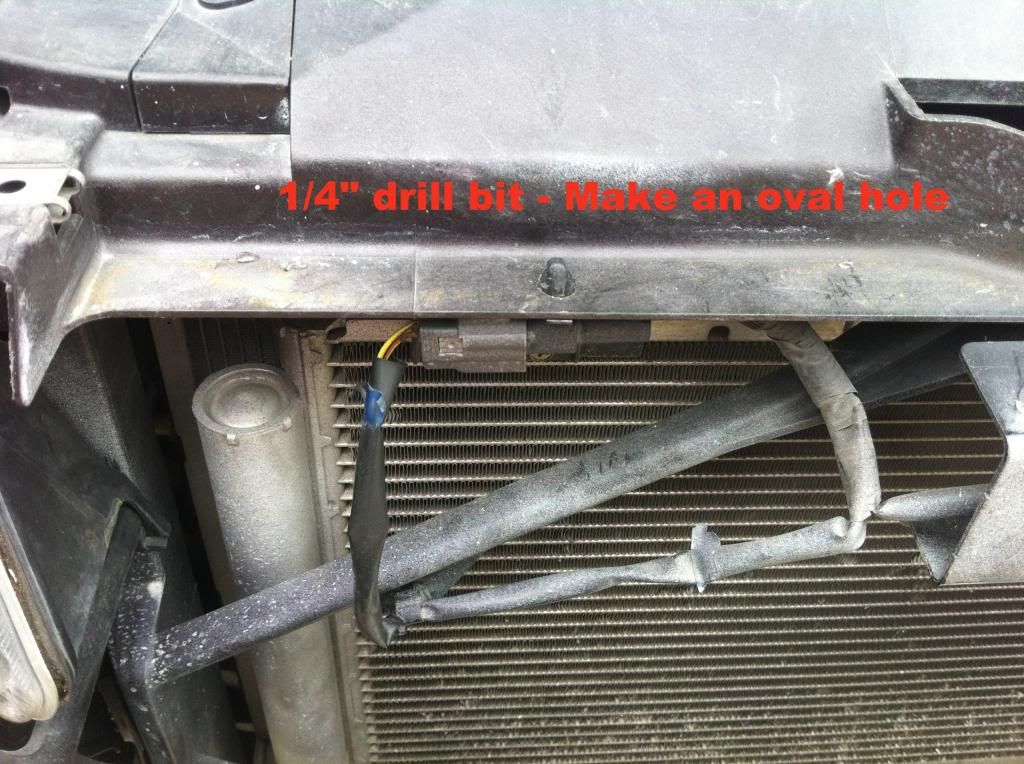 Note*
*
You should trim the OEM bumper styrofoam cushion, this allows the bumper to have a better seating. Trim to the the new height of the new crash bar. I used a box cutter, making several cuts until it cut all the way through.
Pics here:
Pg.6 link
Note*
You can relocate the OEM
washer tank
to the driver side-
see this thread
Note*
I
cut the lower crashbar
using a medium blade metal hack saw and angle grinder, then sprayed the whole thing matte black for looks and to keep rust away. Cut as close to the driver tow-hook bracket as possible, this will make the FMIC sit evenly in the middle (our grill seems to be off-center, I noticed people, such as this guy all had their IC an inch more to the passenger side)
Note*
Open the
grill holes
from all but the top 2 rows using a dremel fitted with a cutting bit, as in the picture below. This shows off your new FMIC, yet keeps theOEM touch-win/win.
How to keeping your coolant temps down (ECT)- Stealing more of @TiGraySpeed6 pics since I forgot to take more!

Note the
fog light structure
trimmed in this pic, on the bottom left- do this on both sides:
Remove the
upper grill ducting
to reclaim flow from the removed tmic (phillips screws and 2 tabs):
Reference the below picture for how far to cut into the
lower bumper's wind diverter
.
Also install the aluminum 24x12 plate from Home Depot ($10) using sheet metal screws (2 screws into the front bumper/plate corners, others into radiator support or undertray). This will stop air from being sucked out like a vacuum.
Thanks again to TiGraySpeed6 for his tips and tricks on this project!