Discussion Starter
•
#1
•
Here is a summary of this thread
We have measured the injectors for the mzr disi: This thread is littered with videos and pics, and the first 3 pages are definitely a good read if you bored, and a must read if your going to be measuring the injectors yourself.
Some facts:
We can update the pinouts for the MS3 if anyone wants to provide me with that data.
Pinouts on the ecu for a MS6 (you can use the wot box install guides for pinout locations)
Ignition coils:
cyl 1 - 3W
cyl 2 - 3X
cyl 3 - 3Z
cyl 4 - 3AA
Crank sensor
- 2C
Cam shaft sensor
(i didn't use it) - 2C
ECU injector control line to injector driver
cyl 1 - 3B
cyl 2 & cyl 3 - 3E & 3H (haven't confirmed exactly which is which)
cyl 4 - 3K
Injector wire colors on the injector plug i keep probing in the various pics and vids
cyl 1 - red
cyl 2 - brn/wht
cyl 3 - grn/wht
cyl 4 - blue
The crank:
Confirmed it is a 60-2 wheel. So 60 teeth with 2 missing. (
The regular mazda 3 duratec has a different crank
).
See the picture below. The engine rotates clockwise. So that means the missing tooth/gap is 120 degrees BEFORE TDC on cylinder 1 compression.
Firing order is 1 3 4 2.
The 4 injectors are controlled by both a
+
&
-
control rails. The
-
controls are specific to each cylinder. The
+
controls are
shared
between cylinders 1-4, and 2-3.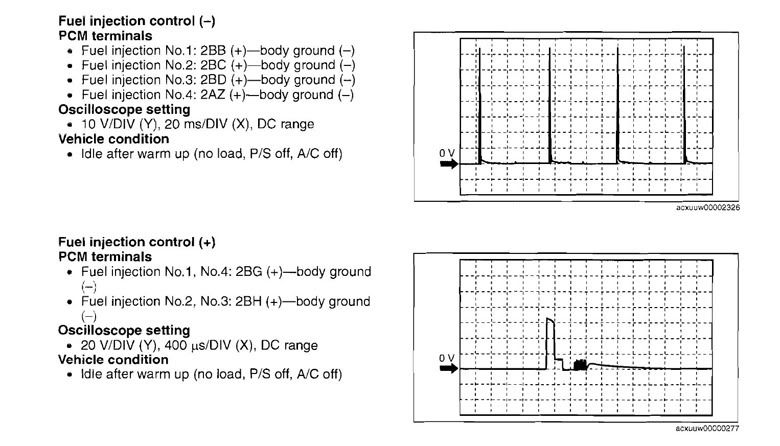 The injectors are likely controlled with logic like this: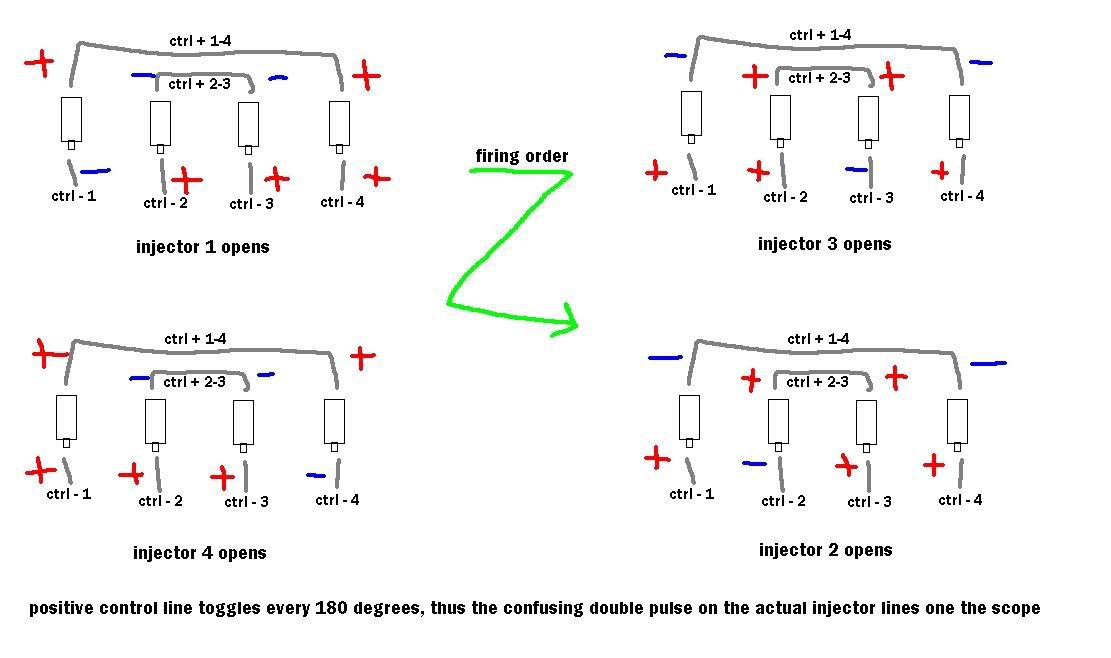 If you monitor one of the injector lines (not ecu control line, but direct line to injector) you will see both the actual opening event, and also the
+
switching between 1-4 & 2-3 connection. The injector is not spraying twice though.
Spark:
QUOTE
The spark actually happens at the end of the pink trace (falling edge). When the signal is high, it is charging the coil. When the edge falls, the spark happens. I counted about 18 crank pulses from the missing tooth to the end of the spark event in this picture. Every crank pulse is 6 degrees. So 6*18 = 108 degrees. Since spark happens at 10 degrees before TDC, that means it is 108+10 = around 118 degrees from the missing tooth to TDC. Which is correct. Nice capture!

[/b]
During shifts, the injector may sometimes spray
after
the spark event.
HERE'S THE JUICE OF THE THREAD
When fairly bolted, and near redline, the injection cycle will extend all the way through the intake stroke and into the compression stroke, and depending on the fueling requirements, it'll get damn close to the spark event. This has some serious implications:
- Fuel injected from the injector depends not only on the fuel rail pressure, but the
differential pressure between the fuel rail and the combustion chamber
. As you start spraying further and further into the compression stroke, the injector requires more and more time to spray a given amount of fuel. You can almost think of this as a redline for our injectors, higher rpm's may not result in higher power beyond a certain point.
- For proper fuel atomization, time & fresh oxygen is required. We have a swirl type injector injecting at around 12MPa in a wall guided system. This is pretty much AS BASIC as it gets with direct injection.QUOTE
I have an SAE paper in front of me quoting 3ms for complete vaporization. At 6000RPM 3ms = around 110 crank degrees. If we are still spraying let's say even 40 degrees BTDC, that means unvaporized fuel will exist well past 70 degrees after TDC and by that point it's too late to get power out of it. We get soot.[/b]
- Mazda's Direct injection is limited to a maximum of 50% duty cycle, consisting of the intake stroke and compression stroke.
Potential fixes for a maxxed out DI fuel system:
1) Bigger injectors
2) Secondary fueling
3) Increasing fuel pressure
To see all of the vids and pics and stuff, you'll have to visit the link below or pm me with specific requests, cause i can't copy the entire thread, ha. We learned alot of shit. Above does a good job paraphrasing the discoveries. Any will keep this summary section updated if/when any pertinent information is added to either thread. I'm glad we finally got to do this. Hope it helps.
---------------------------------------------------------------------
I'm tired of double posting, so
here
is the thread.
Aviator, i know you can't post over there, so i'm gonna ask hal if he'll re-instate you or some shit. Regardless, once everything is finalized and all the details smoothed out, i'll post all the facts here, cause i think it's definitely important to those of us after power.