Discussion Starter
•
#1
•
FOR IMMEDIATE RELEASE
March 15, 2010
MAZDAS ONLY
MAZFEST 2010 returns at California Speedway with new hosts Speed Ventures
Saturday, August 14, 2010: MazFest, Miata Challenge, and
Autocross!
Track Price: $190.00
Autocross Price: To add autocross to track: $60. To participate in autocross only is $80
International Allstars Car Show: $10 entry only
*Free entry into facilities for all drivers that register through Speed Ventures site*
Configuration: Auto Competition Course - "ROVAL" CCW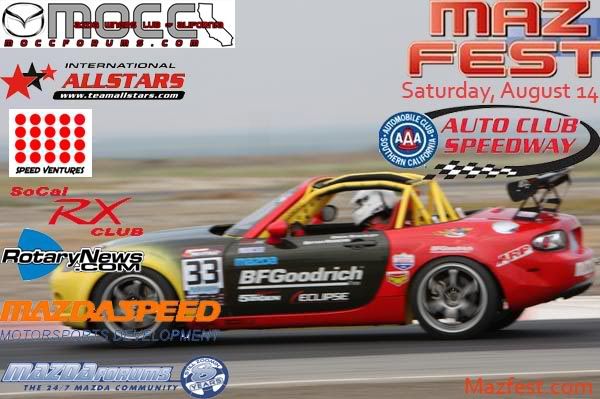 TRACK TIME – ROVAL AND AUTOCROSS
More Mazda Love then ever before!! MazFest returns for its SIXTH year including a full day event with track time at the exciting, challenging, and LOCAL - California Speedway. Take advantage for your chance to satisfy your craving for speed or to learn with the pros! This will be a low traffic event, with more than 1 ½ hours of track time, instruction and class techniques for beginner drivers. Timing transponders and helmets will also be available in advance through our registration page. For the first time ever we will also have available an autocross course for all our Miata and low speed Mazda family. Garages are available for rental at this event with prior purchase
Go here to register for the track or autocross events:
http://mazfest.com/registration.php
INTERNATIONAL ALLSTARS CAR SHOW
Love showing off the latest and greatest modifications you've done to your car? Does your ride have the best entertainment system money could buy, or the custom bodywork that makes heads turn? If you think so, then enter your Mazda in the International Allstars MazFest 2010 Car Show competition. We'll be giving out awards for the best rides of each model represented, as well as an award for the crowd favorite! The Entrance fee will be collected at the event. Judges will be our Mazda specialist vendors as well as MNAO employees.
Go here to register for the car show:
http://mazfest.com/carshow.php
SPECTATORS
Participants are welcome to bring family, friends and a picnic. As always, we will also have available race car ride alongs for that once in a lifetime opportunity to hold on tight and experience the track with a Mazda pro race car driver. You never know what pro Mazda race car drivers will show up! Please feel free to bring E-Z Up Canopies or chairs. Registration for the race car ride alongs will take place on the event date at the MOCC booth. Concessions will be open at the event as well. Come meet and greet our beautiful Team Allstars models for photo opportunities. RAFFLE and GIVEAWAYS galore as always! Raffle tickets will be available for purchase day of the event at the MOCC booth.
Please note there will be a $10 gate fee per person.
VENDORS
Target your Mazda audience with a booth at our 2010 MazFest event – booths of ALL SIZES are now available. This is a well established Mazda's - only event going into our 6th successful year, in which we will be permitting selected vendors to display and sell their items and services. Vendors at MazFest are always known for being active and respected in the Mazda owner's community. All vendors need to register with us prior to the event, and must be displaying or representing Mazda vehicles and/or Mazda related products only!
Go here to become a vendor:
http://mazfest.com/vendors.php
Registration fills up quickly, don't be left off the list! If you are interested in being a part of Mazfest 2010
REGISTER NOW
Event Highlights:
- Race Car Ride Alongs
- Autocross
-Track time
- International Allstars Mazda only car show
- Raffle, and free Mazda goodies give aways
-Live music and DJ
This bitchin' family reunion is organized and put together by the guys at Mazda Owners Club of California, So Cal RX Club, Mazdas247.com and Speed Ventures. For more information, visit
www.MazFest.com
or
www.Moccforums.com
.
*Early registration ends June 13th*