Discussion Starter
•
#1
•
I bought this kit from the
XenonExpert Group Buy in the Group Buy Section
Review
The 5000K kit was mainly white with a touch of blue in it which is exactly what I was looking for.... I believe after time, HIDs kits seem to "rise" slightly so I chose the 5000K kit over the 6000K kit because after a year or two I didnt want my kit to have a touch of purple in it. As for the color, the 5000K katsuro kit is pure white with a hint of blue in it. It matches the autolumination pure white 194s PERFECTLY.
Positives: Light output is excellent, as with all 35 watt HID kits. This is by far one of the better purchases you can make for your car. It instantly makes you car look better and it provides you with much better visability. For 200 bucks, the bulbs have a lifetime warranty and a 2 year warranty on the ballasts. I ALMOST bought a HID kit off eBay but the problem with those are customer support and warranty. At a 200 pricetag, you get the price of the budget HID kits with the backing of a board sponsor...... I couldnt ask for more. I was hoping for something like this to pop up on the boards and so far it loks like my patience has been rewarded.
Overall, installation was a piece of cake. I think a lot of people might steer away from installation because they are afraid of removing their bumper. It seriously takes 10-15 mins and is extremely easy to do. Once you get the bumper off, you have a ton of room to work with and its just a matter of taking off a handful of bolts, drilling a hole in a plastic cap, making 2 connections, and re-assembling. Its really one of the easier mods you could do on your car. From start to finish, it took me about 2 hours to do with my father. We took our time though and I made notes for my writeup and took pictures.....
I did not remove the beam reflector..... so far, I really dont think there is much, if any, glare at all. When looking at it in real life, its flat our goregeous. The only time glare appears is in pictures and thats partly due to my 2 year old camera.....
Negatives: The only negative I have, which is extremely minor, is that the ballast doesnt have 2 screwholes on it. The apexcone and Xtec kits both come with 2 little screwholes so you can use screws for additional support in mounting the ballasts. The 3M tape looks pretty durable and if you clean the surfaces very well, it should work with no problems. This is the only negative I can think of right now.
Disclaimer: This paragraph is my OWN PERSONAL opinion...... There has also been some concern expressed in the past about the need for a wiring harness..... a lot of these plug-n-play kits can be installed with a wiring harness if you choose to buy one..... personally, I did not take out the old voltimeter and take readings to see how many amps the stock bulbs pull compared to how many amps the HID kits pulls. The stock halogens are 55watts and the HIDs are 35 watts.... im curious if anyone can measure how much amps the stock bulbs pull. I will measure how many amps the HIDs pull tomorrow for comparison. Even if the HID kit pulls slightly more amps, I doubt that Mazda would have designed the stock headlight wiring right on its threshold so that a very slight increase of amperage would cause significant problems. Therefore, I did not feel the need to get a wiring harness for these.
Time for some pictures:
Comparison of 5000K color to sidemarkers and stock foglights: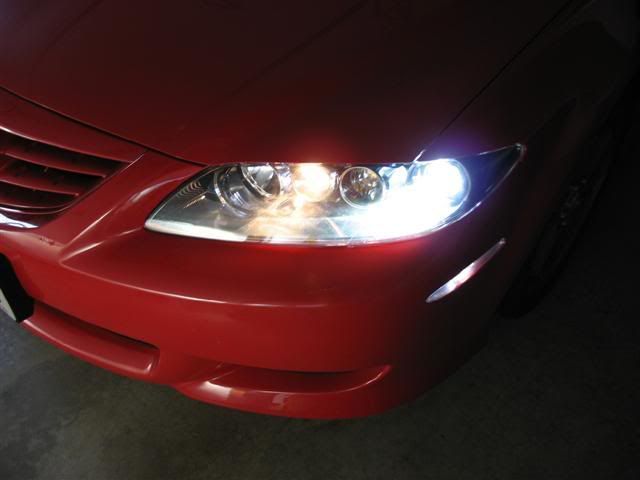 Cutoff on garage door: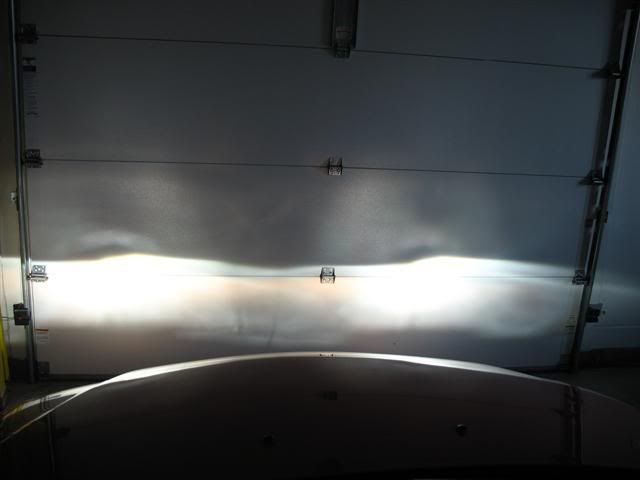 Car in the garage right after the install with HIDs AND fogs on: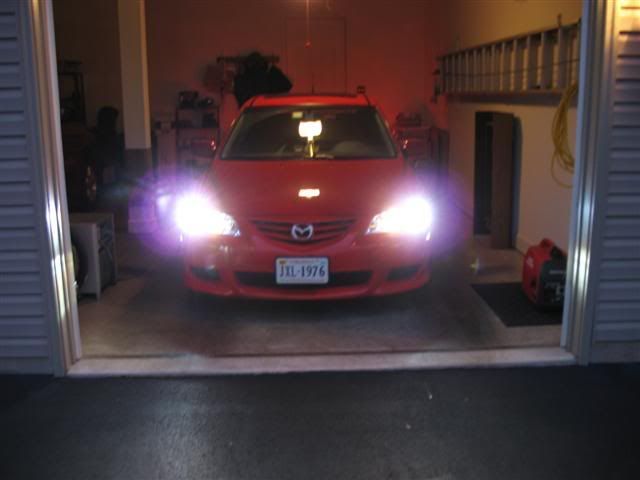 Side shots showing color comparison of 5000K HIDs to autolumination pure white 194 LEDs: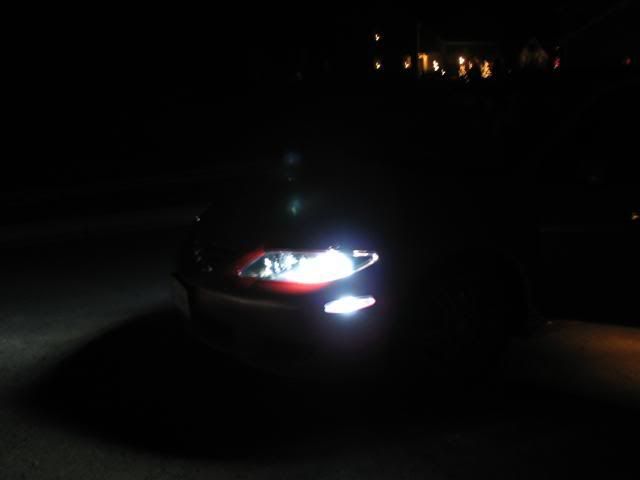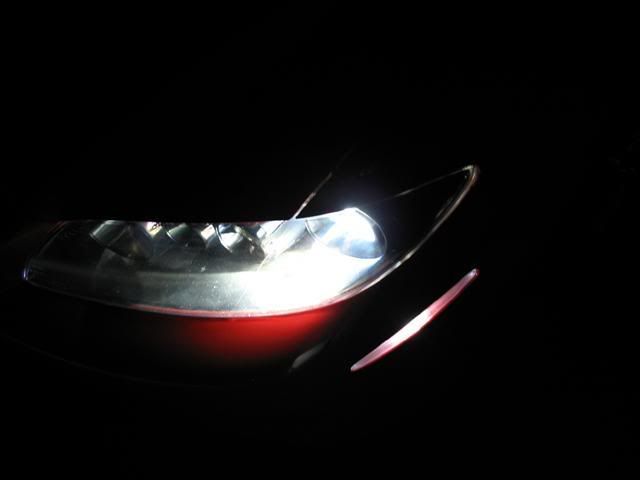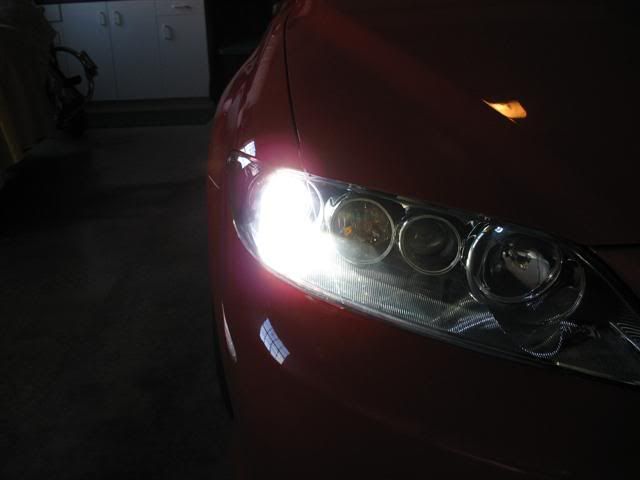 Car by itself at night: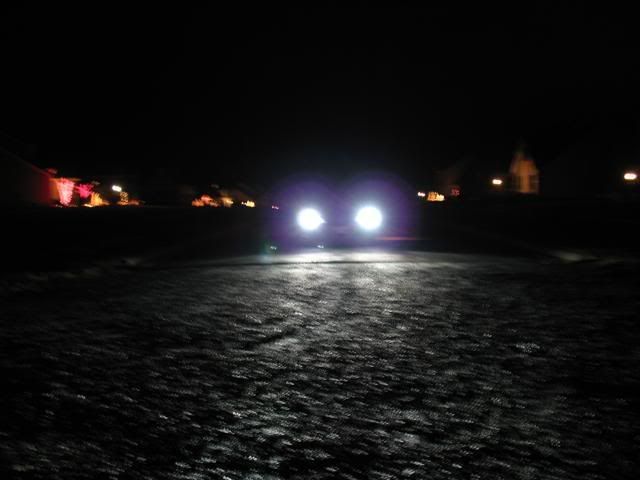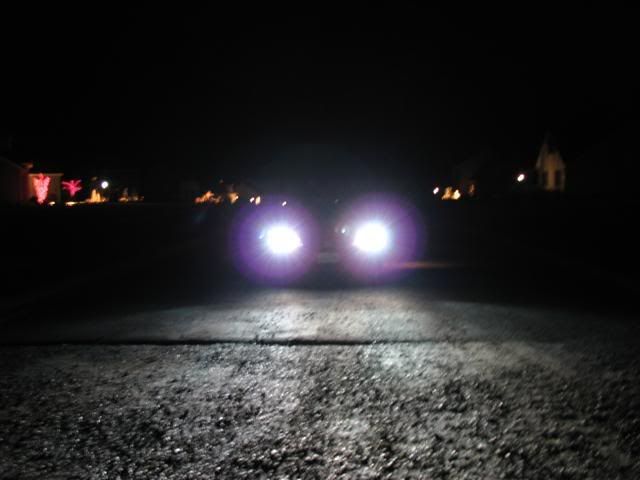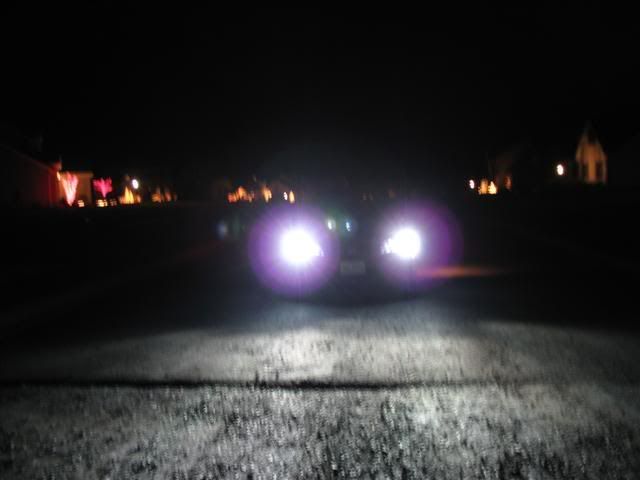 Light output from side of the car: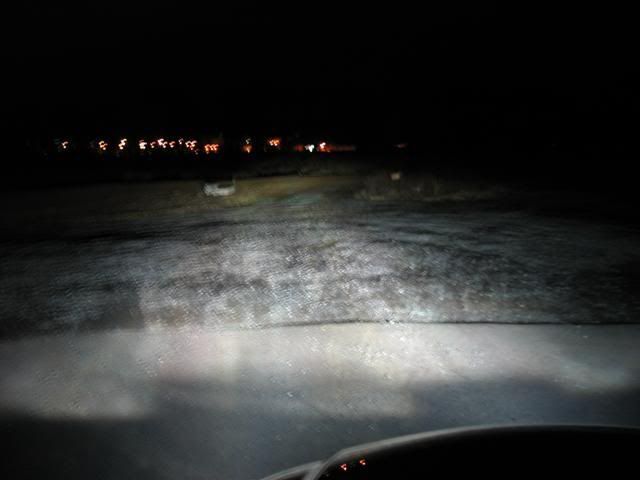 Light output from inside the car: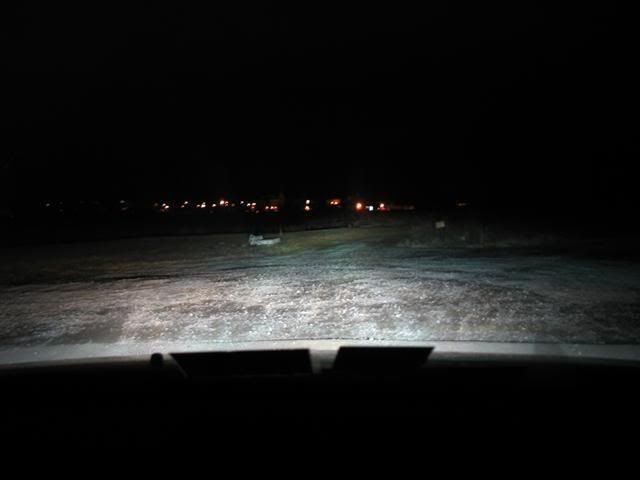 Would I buy these again?
So far.... absolutely.
My install how to with more pictures:
http://forum.mazda6club.com/index.php?act=...t=0#entry880111