Discussion Starter
·
#1
·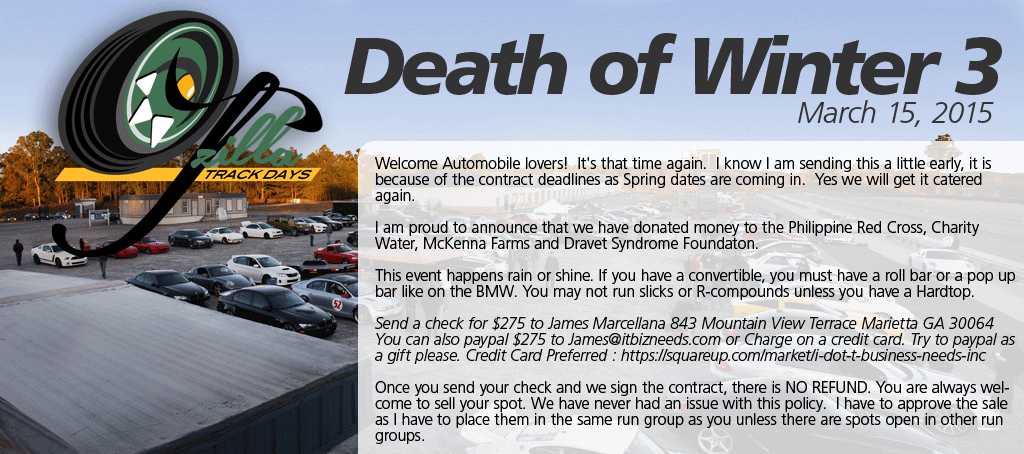 Jzilla Trackday Spring 2015 - Death of Winter III
DATE: Sunday March 15th
Welcome Automobile lovers! It's that time again. I know I am sending this a little early, it is because of the contract deadlines as Spring dates are coming in. Yes we will get it catered again.

I am proud to announce that we have donated money to the Philippine Red Cross, Charity Water, McKenna Farms and Dravet Syndrome Foundaton.

Here are the specifics, there will be a blog with all the rules/regulations/updates.

Those of you that have done an event with me, you know I am not shy with the updates or answering questions.

Send a check for $275 to James Marcellana 843 Mountain View Terrace Marietta GA 30064

($275 because as you know this is a catered event) Legendary Potato salad.

As usual, you guys are my hobby family so I will ask for help and send your payments sooner than later. If you are an advanced driver and can help instruct, I will give you a $100 dollar discount (check with me first to see if you qualify or if I have spots left.) I just like to pass the savings on to the Novice drivers so they don't have to pay extra to hire an instructor. Thank you again to all the instructors from the last event. We are always learning. Initially I will only need 10 instructors unless we get a group full of first timers.

You can also paypal $275 to

[email protected]

or Charge on a credit card. Try to paypal as a gift please

Instructors $175 by check $185 by paypal. Cash is KING!

Credit Card Preferred :

https://squareup.com/market/i-dot-t-business-needs-inc

Please email me if you would like to be an instructor, I'll let you know if I need you. My Tech-inspectors have first dibs on the instructor spots.

Once you send your check and we sign the contract, there is NO REFUND. You are always welcome to sell your spot.

We have never had an issue with this policy. I have to approve the sale as I have to place them in the same run group as you unless there are spots open in other run groups.

This event happens rain or shine. If you have a convertible, you must have a roll bar or a pop up bar like on the BMW. You may not run slicks or R-compounds unless you have a Hardtop.

There will be 4 run Groups and you will get about 1:30 -1:45 hours of Track Time.

Please be honest with your Track experience, I will get Instructors available for you. Those that are fast and I know you are fast, you may be bumped up.

Additional Insurance will be available (stay tuned.)

Co - Drivers add $50

Additional Guests that will eat with us - $15 Drivers must purchase for spectators, No outside purchases.
signup
|
Only sign up if you can "DEFINITELY" go please.