Discussion Starter
•
#1
•
This is my first write-up guys, so bear with me.
First of all, READ all the stuffs before you buy/retrofit
Bosch e46 HID projector retrofit, renamed post
and
RETROFIT
I paid 415USD shipped from a seller on eBay. I can tell you guys his eBay ID if you want. I've got couple of sellers.
If you want to buy a new one, get them from hid-planet. And if there're 10 people are buying, they will give you guys free shipping, and just 20USD to Canada. (the main point is that they are all brand new, the bad news is that the ballast is Hella)
What's needed for retrofit only:
T-20 secure-torx bit as in picture below





2 butter knives (get them from dollar store, you wont be able to use them anymore after all those silicone)
needle-nose plier
small and thin screwdriver (both + and -)
Bubble wrap for your headlight, projectors, and other important stuffs
Wide heavy duty aluminium foil
Electric Drill
Silicone sealant
Everything you need to do electrical stuffs (crimp, terminals, etc)
Assorted screws from homedepot or anywhere else (for the ignitor and ballast)
IMPROVISE IF YOU NEED TO.
(OPTIONAL) H1 wire harness
STEPS:
1. TEST YOUR KIT AND REMEMBER THE WIRE COLOURS (YELLOW = +, BROWN = -), try not to turn it off after it works, let it warm up 1-2 minutes.
2. Remove bumper (CLICK HERE!!!)
3. Remove headlight(CLICK HERE!!! AND DOWNLOAD THE WORKSHOP MANUAL)
4. Taking apart the headlight assembly(CLICK HERE!!!)
Note:
Cover you headlight COMPLETELY, if not, the headlight's plastic (black colour will melt; mine melt a bit)
Dont be cheap, go to supermarket and get a wide heavy duty aluminium foil
Use masking tape to hold the foil down, but dont stick it to the headlight.
DONT pry it vertically, do it horizontally. That way, it will reduce the pressure on the black plastic thing while prying.
ALWAYS pry from the corner end, and stab your butter knife (or flat-head screwdriver, etc) deep into the headlight, dont be afraid, the clear housing is "pretty" strong
Like what everyone says, get a used headlight if you are afraid. I didnt get a used one, and i messed up 1 of my headlights.
5. Disconnect 2 wires from the original projector (Brown and black wire)
See the pictures below; it's self-explanatory.
6. Whichever you want to do first, it's up to you, but i found it easier to release the bottom part first.
Below, you'll see this clip. Use a needle-nose plier to grip it, then use your hand to pull it out (hold the orange housing, instead of the projector) OR you can just slide it out to the left/right (depending on which side you are doing it first).
NOTE: I find it it easier to just slide it out, as either on the driver's or the passenger's side, the clip is blocked by the orange housing, which makes it impossible to unclip it using needle-nose plier.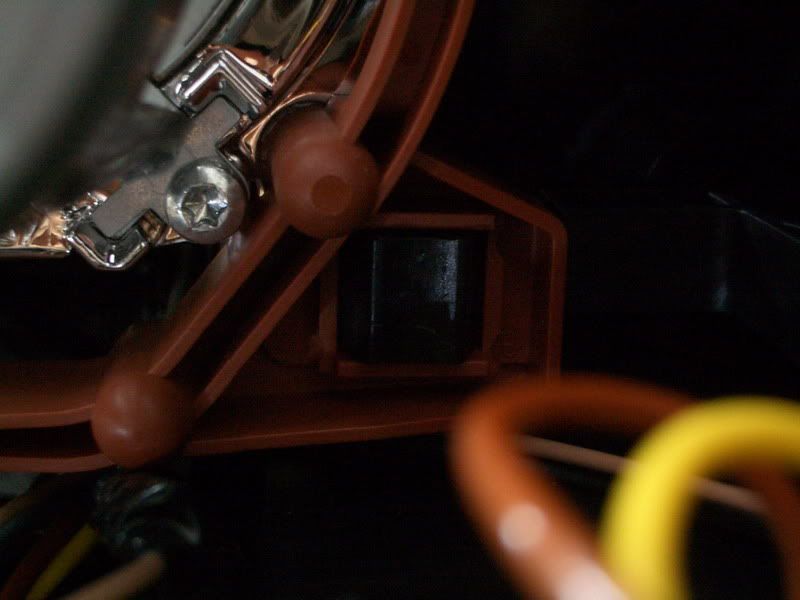 This is the picture where you use the needle-nose plier.