Discussion Starter
•
#1
•
So if you have a hard time shifting your MTX 6 you may want to do this. After reading this post
here
and learning there was a fix I have been wanting to do it for a long time now. My issue wasn't so much griding, there was some but not much, however it was I couldn't engage my shifter into 1st gear some times or even reverse. The steps are pretty easy. Again, I wouldn't do this just to do it, only if you feel you have an issue with your gears sync up.
1. Yep, you have to remove the entire center console top. Perfect time for deep cleaning and if you have a sticky Commander's Knob this is the time to clean it up. Cleaning the knob took more time and effort than this project. The adjustment piece is on the left with the white piece attached to it.
2. After you manage to remove the top piece you will see the shifter shaft exposed and the part we need to adjust. It was a lot smaller than I thought it would be.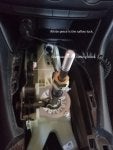 3. What you have to do is push the white piece, the safety, down towards the front of the car. There is a little push piece on the left side that will allow you to do it. Next you push the gray lock piece out. Now this took some time because you need to push it from the back, BUT, its not a solid block. It basically is a U fitting that wraps around the control cable screw...which is the screw looking thing identified by the star.
You want to count the number of threads that are exposed. Again look at the star. This next picture will give you a better idea.
4. Once both pieces are disengaged SHIFT INTO 4TH GEAR. Surprisingly there is a lot of play. But basically jiggle the thing a few times. Count the number of threads that are exposed. Originally had 4 threads exposed, then changed to 3. Once you see a difference, I had to to do it three times, make sure you can shift into 1st, 2nd and reverse. Put it all back together. I drove around with out the top piece in to make sure the shifting was smooth.
Some say this makes the car feel new. Mine felt improved, shorter throws, smoother transitions from 1st into 2nd, etc. For a no money, no part to buy fix this is GREAT. Hope this helps.