Discussion Starter
·
#1
·
I am sure this is the correct place to post this, sorry if its not. Mods, please move.
First off I apologize for my poor terminology and uneasy reading structure. "A crummy world of plot holes and spelling errors." - Phillip J. Fry
I posted this on 6Crew but got no attention over there. Besides the Club is better IMO, sorry Crew....
I bought these recently from a friend of a friend, who works at a salvage yard. He told me he pulled these off of a '07 Mazda6. But I have come to the conclusion that these do not fit any year or model of the Mazda6. Maybe I'm wrong, someone correct me... They look incredibly similar to the Post Facelift Mazda6 fogs, but trust me, they're not, Look what I drive.(you can find this information in my signature)
The post facelift bezels install from outside in. The ones I have install inside out. In other words, The post facelift snap onto the bumper from the outside of the bumper, and the ones i have snap onto the inside of the bumper. Hope that makes sense...
They are defiantly Mazda parts, with Mazda logos printed on the sticker on top of the harness. Plus, the harness fits the factory prewiring for the fogs. I think this is more than a coincidence seeing that he harness would fit any H11 bulb(I Think its an H11). But don't let that "M6" fool you because I believe they're off of something else, something not being a Mazda6, but certainly being a mazda.
Now here is where my thinking comes in... These light assemblies are compiled of three different parts each. Each part has its own model numbers and each side has different part numbers, for a total of 6 parts(3 each side), and 6 part numbers(left and right are different) Each side has a Bezel, A mounting bracket, and the actual lamp(not official names). My guess is that Mazda only changes out the bezel to fit these other two parts(mounting bracket and lamp) into other models, cutting production costs. It seems practical and smart.
So if you don't get where I am going with this now. My plan is to ditch the bezels and transfer the mounting bracket and lamp to the correct bezels for my car.
This is where I need one of you Gurus with catalogs and data bases of part numbers to help me and see if my hypothesis is correct about the mix-matching parts AND help me find the correct part number for my bezels if applicable.
If all the above fails, hopefully you guys can help me find the correct forum to post these things for sale on.
And of course some pictures:
Driver's Side Part Numbers & Pictures Below:
Bezel: GR1V-50C21 (LH) >PP+T16<
Fog Lamp bracket: GR1V-51694 (LH) >PP+T16<
Fog Lamp: Korto 114-61009 SAE F 01 L
Passenger's Side Part Numbers & Pictures Below:
Bezel: GR1V-50C11 (RH) >PP+T16<
Fog Lamp bracket: GR1V-51684 (RH) >PP+T16<
Fog Lamp: Korto 114-61009 SAE F 01 R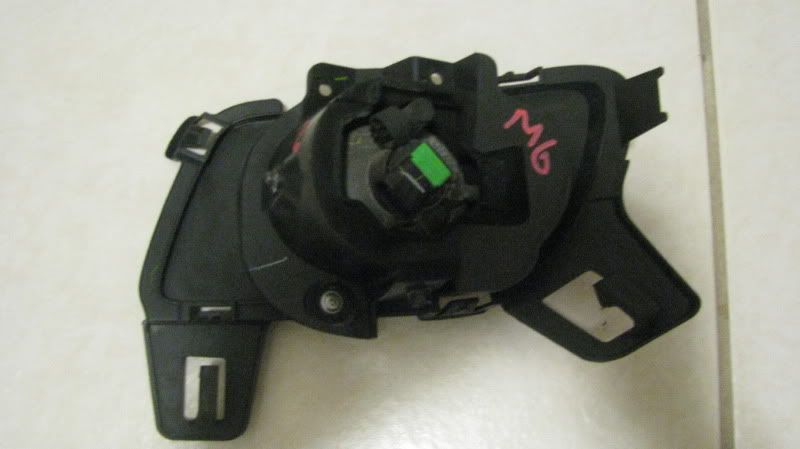 I'm hoping to hear from you guys!
If you didn't understand something, or need further explanation, please let me know.
Thanks in advanced...