O hai, it's the Drizz. I'm 28 and from Arizona.
In case you don't know by now, I drive a Pebble Ash 2005 Mazda6 3.0l.
Loading Zone
by
Andrew Vicars
, on Flickr
Engine | Transmission
CP-e MAFci CAI
Exedy Stage 1 Clutch
Exedy Lightweight Flywheel
AEM DryFlow Filter w/ Injen Hydroshield
Fluidampr Underdrive Crank Pulley
CSF Radiator
Water Pump Belt Tensioner Delete
Throttle Body Coolant Bypass
Modified EGR System
Motorcraft SVT Cobra Ignition Coils
NGK Iridium IX Spark Plugs
Saikou Michi Oil Catch Can
Magnaflow Catback Exhaust
Corksport Exhaust Hangers
Street Unit Rear Engine Mount
Techna-Fit Teflon-Coated SS Clutch Line
Mazdaspeed Short Throw Shifter
TWM Shifter Bracket
NRG Reduced PSI Hood Dampers
GReddy Aluminum Air Diversion Panel
UMS Tuning Billet Oil Cap
Custom Painted Engine Covers
360 Infinite Engine Dress Up Kit
OEM Mazda 6i 'Skid Plate'
Suspension
Ksport Coilovers (front)
Eibach Sportlines (rear)
Bilstein HD Series Shocks (rear)
Racing Beat Front & Rear Sway Bars
Massive Adjustable Endlinks (front)
Racing Beat Endlinks (rear)
Megan Racing Underbody H-Brace
GTSPEC Underbody Rear Trailing Braces
Street Unit Rear Floor Bar
Moog Control Arms
Wheels | Tires | Brakes
17x9 TR Motorsport C3 Wheels et48
255/40 Hankook Ventus Evo V12 Tires
NRG 800 Series Lugs/Locks
RAYS Valve Caps
Centric Premium Rotors
Hawk HPS Brake Pads
Techna-Fit Teflon-Coated SS Brake Lines
Rustoleum Bed Linered calipers
Interior
OEM Black Leather Seats
OEM Moon Roof
Homelink Rearview Mirror
2010 Mazda MX-5 OEM Shift Knob
Mazdaspeed6 OEM Aluminum Pedals
Mazdaspeed6 OEM Aluminum Door Sills
Mazdaspeed6 OEM Gauge Bezel
Oznium Red CCFL's Under Dash & Rear Seats
Oznium Red Superflux LED's in Cup Holders
Oznium White Flexible LED Strips in Trunk
All bulbs replaced with LED
Exterior
Painted Seibon VS-II CF Hood
Custom Shaved NextMod BR Lip
Custom Powder Coated Black Mesh Lower Grilles
NextMod AE Badgeless Grille
TYC Headlights (Lamin-X'ed)
Morimoto Bi-Xenon HID Projectors
Morimoto 3Five 5000k H1 HIDs (lows)
Morimoto 3Five 5000k H3C HIDs (fogs)
Custom Satin Black Headlights
Hella Supertones Horns
Smoked Side Markers
Yakima Roof Rack w/ RockyMounts Pitchforks
Shaved Rear Bumper
CAR_LED Tail Lights
RPM Smoked LED Rear Reflectors
Debadged Trunk w/ Color Matched Flying M
Bosch Icon Wiper Blades
35% Tint Front Windows
20% Tint Rear Windows
Y-Series Stubby Antenna
WHP LEDs Everywhere
7-Brake Light Mod
Side Marker-to-Turn Signal Mod
Audio | Electronics
Scangauge II Ultra
Duralast Gold Battery
Scosche EFX Battery Terminals
Twizted Visions TCS Auto-Off Module
Metra Turbo2 Dash Kit
Alpine CDA-105 Headunit
Alpine MRP-M500 Class D Amplifier
2x12" MTX 4500 Subs in Thunder Box
Custom Subwoofer "Skin"
PAC SWI-JACK Alpine Steering Wheel Controls Adapter
Monster Cables Micro XLN RCA Cables
Rockford Fosgate 1.2 Farad Capacitor
Tsunami & KnuKonceptz Wiring
StreetWires Distribution Block
Dynamat & Second Skin Sound Deadening
Fluids
Mobil1 5W-20 Synthetic Motor Oil
NEO 75w90 HD Synthetic Transmission Fluid
ATE TYP200 Brake/Clutch Fluid
Dyno [Feb 2010]
200 WHP
200 WTQ
Awards/Recognition
2008 AZMC Dyno Day "Quietest" (Pre-Exhaust)
January 2010 Arizona Mazda Club Member of the Month
April 2010 6Crew 6 of the Month
July 2010 6Crew Calendar Featured Car
November 2011 6Club Ride of the Month
December 2011 6Crew 6 of the Month
December 2012 6Crew Calendar Featured Car
Future
Fix broken shit
It started out completely stock when I purchased in in 2007. Here's the closest to stock photo I can find (only mods were HID's, AEM CAI & clear corner lenses).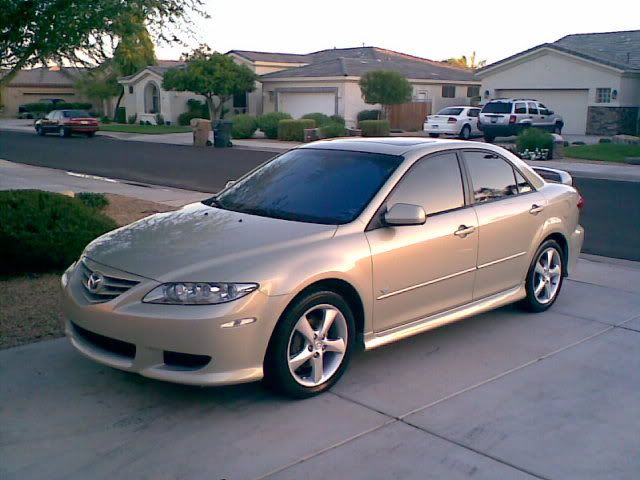 But then I got a hold of it, and now it looks like this...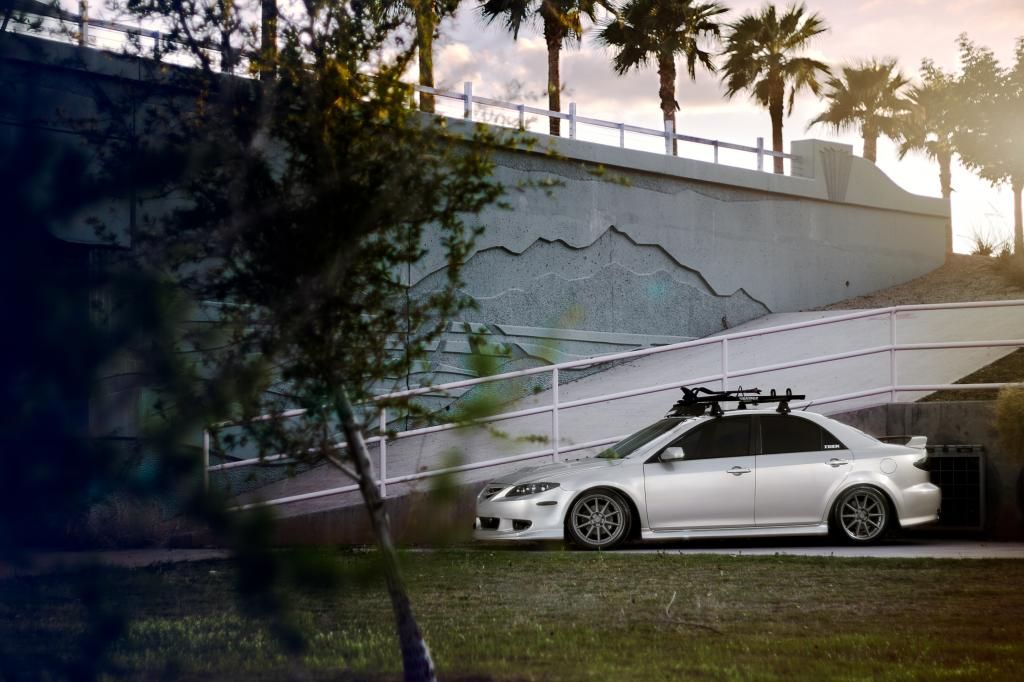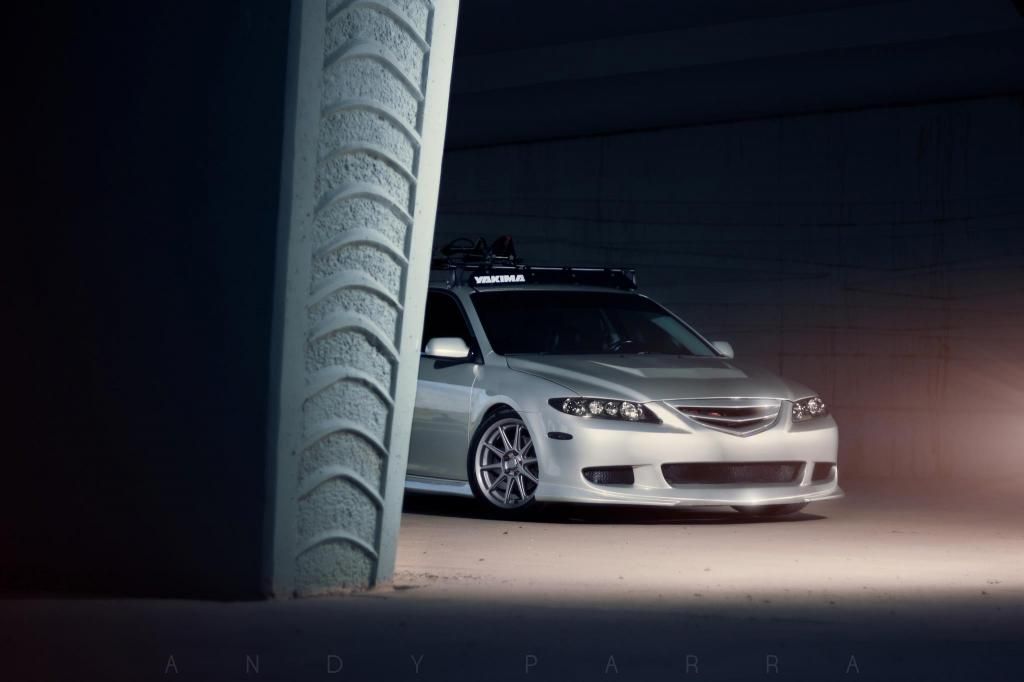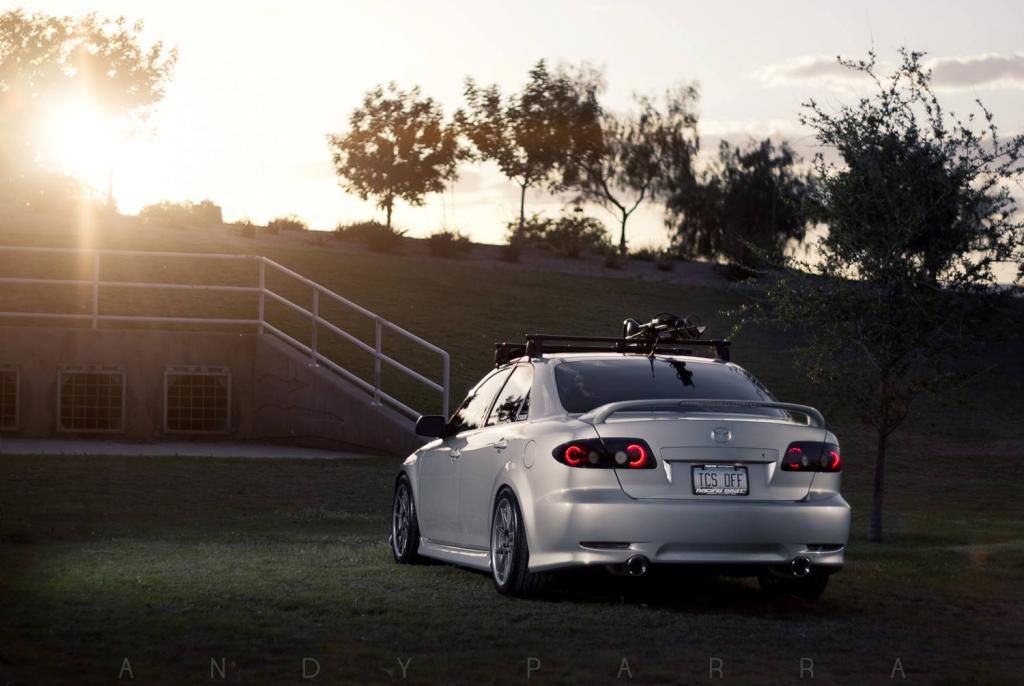 Mazda6 Teaser
by
Andrew Vicars
, on Flickr
Mazda6 Shoot
by
Andrew Vicars
, on Flickr
Roof Rackin!
by
Andrew Vicars
, on Flickr
Old setups:
No Trespassing
by
Andrew Vicars
, on Flickr
The MF-6
by
Andrew Vicars
, on Flickr
Mercy Gamez & My 6
by
Andrew Vicars
, on Flickr
Full Photo Gallery:
http://www.flickr.com/photos/drizzoh/sets/721576235931