This is some info that I'd looked for online in the past and couldn't quite find, so I thought I'd document and share when I recently finally got around to opening my car up. This is for the 2014 Bose system, but I'm sure the dash measurements are the same for all cars. I hope this will be helpful to someone.
(click the pics to see larger version)
You can wrap a screwdriver with tape for this, but a set of plastic trim tools are safer to keep from messing up your dash plastic. I got a big set from
modifry.com
, but I've seen a smaller set at my local Harbor Freight store too. Start prying up at the back corner as pictured, then work your way forward. There are two push-in pressure clips under there. They're hardest to get out the first time. Find the online Mazda6 shop manual if you want to see a diagram of exactly where the clips are.
Once the speaker cover is loose, if you have the Bose system, you'll have to disconnect the tweeter to get the cover out, because the tweeter is mounted inside the cover rather than in the dash itself. I always find it tough to figure out what to push on these stupid OEM connectors to get them loose, so here's a pic of it disconnected so you can see what you need to push.
Because the speakers are so close to the dash, it really helps to have some offset screwdrivers to break the speaker screws loose, then a stubby screwdriver to finish removing the screw. I bought
three offset screwdrivers
and
Wilmar W80004 stubby screwdrivers
for just $14 shipped from Amazon.
Again, for easier removal for you, here's what the tab on the connector for the midrange looks like once it's off.
Here's what's left once the factory stuff is out. The tweeter hole is an odd shape, but when you see the tweeter assembly later, you'll see why.
Mid-range hole is 80mm diameter.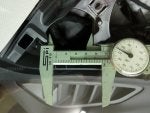 Tweeter hole at its narrowest diameter is 47mm.
In case you want to try to wedge a tweeter up into the factory hole inside the speaker cover, it needs to be a max width of 36mm. The weird bit sticking off the bottom is why the hole in the dash is odd-shaped.
Interestingly, the mid and tweeter are fed from the same signal (check the electrical diagram), so the tweeter just has this capacitor (can't read the microfarad rating) on it acting as a first-order 6db/octave high-pass filter to keep it from getting destroyed by bass notes.