Carbon build-up on Speed 6/3(CX-7). A big issue!!!
As some of you already know that carbon build-up in any direct injection engine(DI, DFI, GDI) will be an issue in the future. There is no gasoline fuel to wash clean the intake manifold and the intake valves.
Compared to port injection/carburated engines that have fuel going through the intake mani and then to the intake valves. Our engines have a Positive Crankcase Ventilation (PCV) system. Basically, this connects the engine block to the intake manifold. In the event that there is boost blowing by the piston rings, it relieves the pressure in the oil sump. Problem is that there is also misc crap that comes along from the oil sump (oil, fuel, etc.).
An OCC is used to prevent crankcase blow by waste from being sucked into your intake manifold, by design this is supposed to happen (very minimal amounts to be burned off) but a forced induced engines put out a lot more crankcase pressure and manifold vacuum/positive pressure then an n/a engine, sometimes/a lot of time large amounts of unspent fuel, condensate and oil vapor go through the venting system usually under boost and plume of burn off come out of the exhaust tail pipe, attributes to possibly fouling the plugs, fouling O2's and other sensors etc also some of this can be sucked into intake piping and intercooler reducing cooling effectiveness and making a god damn mess of things.
I'm gathering info to help anyone with this inherent future problem....great for noobies or for people who want to prevent this problem. New information is constantly being added to this thread. I will also update the main page to reflect important info on carbon build-up on my car. I have started a cleaning regiment on the intake manifold and the intake valves at every oil change with a BG Inject-A-Flush apparatus. I will post results after each oil change below. Thank you for reading my thread. Enjoy
And this is what is caught in the OCC...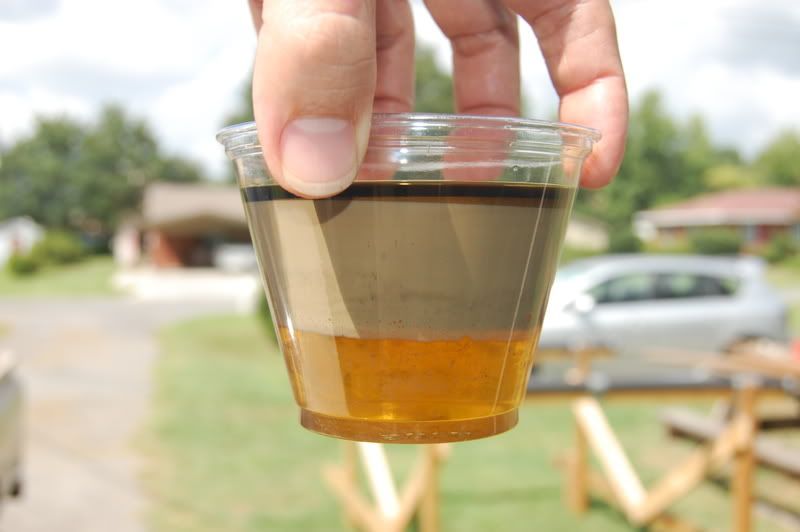 And this is what happens when all that crap from above gets fried onto the intake valves, ewww:
​
Here are few solutions to fix this problem are:
1. Delete the EGR Valve
:
http://forum.mazda6club.com/speed6-...ted-intake-pcv-catch-can-egr-delete-done.html
2. Install an oil catch can(OCC):
http://forum.mazda6club.com/speed6-engine-drivetrain/211728-whoosh-s-oil-catch-can-teaser.html
and.....
http://forum.mazda6club.com/speed6-engine-drivetrain/210267-oil-catch-can.html
3. Set up an water/meth injection kit:
http://forum.mazda6club.com/mazdaspeed6/220816-how-water-meth-injection-install.html
4. How to remove the intake manifold on a Speed6:
http://forum.mazda6club.com/mazdaspeed6/222576-how-intake-manifold-removal.html
and from SuperSkaterxes:
http://forum.mazda6club.com/mazdaspeed6/226380-how-remove-intake-mani-install-occ.html
and from James Barone Racing:
http://jamesbaroneracing.com/suppor...e-Throttle_Body_Installation_Instructions.pdf
Torque specs for the throttle body bolts are 71-101 in/lbs
.
Torque specs for the intake manifold bolts are only 13-16 ft lbs !!
The bolts are very small, they screw into aluminum, and there are a total of 8 bolts securing the relatively light manifold.
1/4" torque wrench is best for the IM bolts. 170 in/lbs = 14 ft/lbs
.
IMPORTANT!!! IMPORTANT!!! IMPORTANT!!! If you are going to use a TIG(Thermal Insulated Gasket) instead of the stock intake manifold metal gasket, please just use only the 5 front bolts to hold the IM down. Leave the 2 side bolts off and the bolt underneath the EGR tube . You "WILL NOT" have any issues with the 3 bolts missing. Several people have cracked the #1 runner on the IM while tightening the bolt(the bolt right next to the power steering pump). Here's a great way to avoid this from happening to you. Tightening from center out, 3-ish passes progressively tighter right(snug, tighter, tight). Make sure you use a 1/4" torque wrench.... and never use a 3/8" or 1/2" torque wrench because you will risk over tightening the bolts even if the torque wrench can do 13-16 ft lbs

.
This would be a good time to invest in a torque wrench if you don't have one. 1/4" torque wrench is prefect for this job.
Harbor Freight--->
1/4" Torque Wrench - 20-200 in. lbs.
When you have the intake manifold off, this would be a good time to check or replace two(2) items. #1 would be the PCV and #2 would be the fuel injector seals. The PCV valve tends to get gunky and not work properly. The injector seals will leak over time, esp if you are increasing horsepower to the engine.
5. Best technique from cleaning your valves(simple,easy and cheap) ***

Mazda6Club.com Seal of Approval***

:highfive::
How to clean your intake valves with walnut media
Soak the valves for 1 hour, use Zoom Zoom Juice or B12 or Denture Alcohol.
6. How to hand clean your intake valves. You need to be a member of the MSF.org to view:
How-to: Gain instant 20whp fo freeee - Mazdaspeed Forums
and:
how to: clean your valves vol 2 - Mazdaspeed Forums
7. Cleaning intake valves with walnut media:
http://www.mazdaspeedforums.org/forum/f10/cleaned-my-intake-valves-105926/
***

Using walnut media is the only true way to really clean the valves to remove all the carbon deposits on them

***
Important note---> running fuel injector cleaner "WON'T" clean anything on the intake side.....I wish it could.
The dark side of direct fuel injection technology:
Direct Injection Fouls Some Early Adopters - AutoObserver
Here is some info from Porsche owners having the same problem:
Carbon buildup on DFI engines. -
Audi engine's too. Great info here:
Audi FSI Engine Carbon Build-up Megathread
GM 3.6L V6 engines having carbon build-up:
Direct Injection causes power loss overtime? - Camaro5 Chevy Camaro Forum / Camaro ZL1, SS and V6 Forums - Camaro5.com
GM's Top Engine cleaner info:
GM Top Engine Cleaner Replaced - GM Techlink
Cobb Tuning Service Bulletin on Carbon Build-up:
http://dl.dropbox.com/u/16847945/Cobb_MS3-MS6-MPS Service Bulletin v1.00.pdf
Why you need an OCC on your MZR DI Speed engine:
http://forum.mazda6club.com/mazdaspeed6/242633-why-you-need-oil-catch-can-fyi.html
Here's info on where to buy stuff to fix/stop/prevent carbon build-up:
AEM Water/Meth
:
AEM Water/Methanol Injection Kits - Water-Meth Injection Systems for Turbo/Super - Wideband O2 UEGO, X-WiFi, EMS Series 2, Engine Management, F/IC, Tru Boost, Gauges, and more Automotive Performance Electronics
and...​
Labonte Water/Meth
:
Water Methanol Injection Systems for Gasoline Engines
and from...​
Oil Catch Can Kit(OCC):
Home - Performance Automotive Development LLC
EGR Block Off Plate & Plug from JBR:
EGR Block Off Kit MS6 [EGRBO] - $20.00 : James Barone Racing, Custom Fabrication
Cleaning pr
oducts to use.
B-12 Chemtool Fuel System and Injector Cleaner(

2nd best, cheap

):
Fuel System Additives
GM's Top Engine Cleaner(

Same as ZZ Juice below

):
GM Top Engine Cleaner Replaced - GM Techlink
Mazda Zoom Power Cleaner for soaking the valves before scrubing the intake valves clean(

best product, $20

):
ZOOM POWER ENGINE CL (0000-77-A86) - $20.88 - 000077A86
Cleaning results
:
1st:
Used Seafoam through the brake booster hose.
2nd
:Used BG IAFA with BG ISC cleaning solution #211.
3rd:
Used BG IAFA with BG ISC cleaning solution #211.
4th:
Used BG IAFA with BG ISC cleaning solution #211.
5th:
Used BG IAFA with BG ISC cleaning solution #211.
6th:
Used BG IAFA with BG Fuel Injection System Cleaner #210.
7th:
Used BG IAFA with B-12 Chemtool solution. Miles on the car 116,7XX.
8th:
Used BG IAFA with BG Fuel Injection System Cleaner #210. Miles on the car 121,300.
9th:
Used BG IAFA with BG Fuel Injection System Cleaner #210. Miles on the car 125,622.
Step by step instructions on using the BG Inject-A-Flush Apparatus:
This is the BG Products Inject-A-Flush Apparatus(IAFA)
It is used to clean fuel injectors via the shredder valve on the fuel rail or you can use the sprayer nozzle to clean the IM and the intake valve through the throttle body.
Here are the instructions. Total time without the drive was less than an hour. Here are the steps---->
1. Get the engine to normal operational temp.
2. Turn off the car and then remove the intercooler
3. Set the BG Inject-A-Flush at 60 psi
4. Place the spray nozzle on the bottom of the throttle body rubber coupling.
5. Pour a can of BG ISC or Seafoam or B-12 into the Inject-A-Flush and then screw the top on.
6. Hook-up the air hose from the compressor to the Inject-A-Flush. The compressor size I used was just 8 gallons. Plenty for this project. I bet 3 gallons will do just fine for this procedure.
7. Put the intercooler back on. This is where you will see in the picture the nozzle sticking out. When you tighten the clamp, don't over tighten it.
8. Start the car after everything is button up.
9. Open the valve to the inject-A-Flush to release the solution. The car will start to idle rough, but won't stall. It will take 6-10 minutes for the solution to empty. You will need to run the engine for a total of 12 mins.
10. After 12 mins, turn off the engine. Remove the intercooler and the Inject-A-Flush spray nozzle.
11. Wait 30 mins before driving around to burn off the carbon build-up.
12. Install the intercooler back on and tighten everything up while waiting 30 mins
13. After waiting 30 mins.....go for a nice 15-20 min drive. Do a couple of WOT open pull and get on the highway. You are done!!
I starting cleaning the IM and valves at every oil change. Everyone knows taking the IM off is a PITA and cleaning the valve is time consuming. I'm hoping that by doing this will save me time and money. I like to clean the IM/valves right before I need to change my oil. After the cleaning, I change the oil right a way. I also like to put in old spark plugs the day before I do the cleaning so to not mess up the newer spark plugs to prevent fouling the plugs (this is not necessary tho).
Using this method will only remove a small portion of the carbon build-up on the valves. It does however clean the TB and the inside of the IM very well.
FYI
......if you have a OCC and you are doing the IM/valves cleaning, I would empty out the OCC after the service. You will be surprised how much cleaning solution is in the OCC. You could empty the OCC before the cleaning and then empty it afterwords to see how much comes out.
And the cleaning solution also helps clean the lines going into the OCC and the OCC itself. Killing 2 birds with one stone.