Discussion Starter
•
#1
•
Ok the rear shock are a little bite harder and this is not for your average installer.
All of these pics are while laying on your back with your feet hanging out of the rear of the car. Also most of these pics are of the driverside shock unless other wise stated. Ok so lets get started...
This bolt is a 17mm and you also might want to have an additional one for the other side just incase the entire bolt turns together. The bolt that i am refering to is the one just to the right of the jackstand.
After you have gotten that one loose there are three bolts that hold the upper plate for the shock in place. They are 14mm.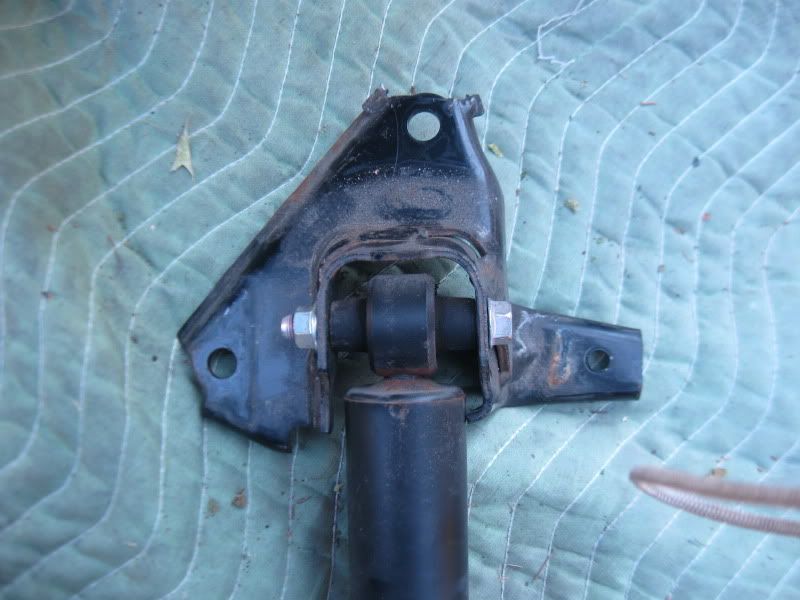 This is where is gets a little difficult. IT IS HIGHLY SUGGESTED THAT YOU GET A SWIVEL 14mm not just a swivel with a 14 on it the on that is already made with 14 on the other end. I will get a pic of what i am talking about later. You CAN do it without one by using a regular swivel with a 12' and 6' extension 3/8 drive it will just take little more time to get out.
Remember these pics are taken while laying on my back on the driverside wit my head pointing to the front of the car.
Here are all three bolts.
this one here you will need to use a closed end 14mm wrench as a socket will not fit.
both of these are the same pic just from a different angle. the bolt that you want to take out is the on to the right on pic one and the lower one in pic two notice the plate is bent around the bolt.
I will be taking pics of how i got the swivel up on there later so you will know how i got the bolts out. Once you have these bolt all out then you will have to maneuver the plate out of the area it is in. It will come out you will just have to find the right angle to get it out also are the tip of that plate if a safety hook. It is easy to bend. You will need to have this bent un order to get the shock out. This will come loose very easily while you are trying to find the right angle to get the plate out. FYI..YOU CAN NOT GET THE NUT AND BOLT OFF THE TOP OF THE SHOCK WITHOUT TAKING THE PLATE OUT.....
If these pics prove to be too difficult to understand then please let me know.
Once you have the shock out the you will need a 17mm to get the shock loose from the plate.