Aftermarket Android Head Unit / Ownice C900 K5 B / Mazda 6 2016
I have recently installed Aftermarket Android Head Unit from China.
k5 is upgraded now to K7
I am mainly interested in safety while driving and I use cameras for monitoring the road even before installing this system (I had a previous 360 Panorama system which was not as good).
So, I mainly use the Head Unit for Music and to monitor my car during driving. I don't use You Tube and even Navigation apps as I prefer using my mobile for this purpose although all these apps (You Tube, Google Maps, OsmanAnd, Waze and others…..) are supported by the Head Unit.
Let's start:
The System I Use is : Ownice C900 (K5 B) …Please note there are other types that satisfy other aspects (K1 basic Android System / K3 Digital Sound System /K6 4G Lte & DSP system).
This system is as follows:
•360 Panorama Bird View Cameras (integrated with the Head Unit and used only with it / Support touch screen / support blind Spot recognition as you receive alerts sound and red waring indicating unsafe situation / support DVR recording your journey / support automatic Calibration). There are two types of cameras (I purchased the higher version made by SONY. I received many updates for the 360 Panorama app during the short period I had it (Nearly one month).
•6core CPU / Allwinner T7 Platform (Focus on 360° Panoramic) (Not the best but It is made to mainly support the 360 cameras) I asked the seller is I can purchase the higher K6 with 360 Cameras and the answer was "No". Anyways, the system is so smooth with no lags at all.
•6- Channel DSP Chip (Simply the best for music lovers).
•Android 7.1 (2 GB Ram / 32 internal storage). There is a lower version with 16 GB internal Storage. (of course, supports google play store for downloading and installing all apps).
•Bluetooth phone call and music supports and work very well through the built in Mic.
•GPS supported and works fine.
•Driving wheel control buttons: All supported
•The Head Unit Mouse and the buttons around it: All supported and can be allocated for other purposes (I mean you can allocate the Navigation button for music or you tube…etc.)
•Car Control System: fully supported (I was so worried about that) but I can control HUD for example (Height / brightness…etc.).
•Can-Bus: Fully support Trajectory Can-bus for cars with ESP system which is supported by Mazda as I believe but you will have to pay extra 30 USD for it.
•It automatically supports right and left signal and reverse modes without connecting the trigger cables to tail or reverse lights. Just flash right to trigger right view and so on.
•Screen: 9-inch 2.5 D / IPS 1042*600 (there is a lower version TN with the same resolution).
•Important point is that you can control the System by touching screen (if you touch right, it gives you the right view of the car, if touch back, it gives you the back view and so on. I mean the screen is interactive.
•Others (FM Radio/ Tv box / TPMS to monitor Tires Pressure/ Car Play and Android Mirroring "pay 10 USD extra"/OBD for examining your car).
•ONLY Drawback:
Bose sound system Amplifier did not work. I know maybe I missed something during installation but I am still communicating the seller to know how to fix it. Alternatively, I connected Audio cables from the aftermarket head unit directly to the pre-amplifier cables and it worked (small Scratches).
Note; problem solved after getting he right harness.. now the amplifier is in full capacity without any cables cutting) please see page 3 #50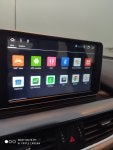 The following picture is for the DSP great sound system:
Please see the following picture : This is very important mode while driving as you see clearly all blind spots around the car...
•Installation Steps:
1.I had to take the front of the dashboard to take out the Factory Head Unit and take pictures of its back side to make sure the harness is ok. See the following video:
or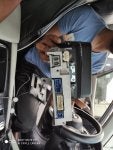 2.I took off the Glove box and took pictures of this Amp-input. Please see these pictures:
3.I used the following video when I Installed the cameras…It is so close although it is for 2012 model:
4.Please see these pictures: