Discussion Starter
•
#1
•
hey there, i need some help with my replacement of the factory DRL bulbs on my 2009 mazda 6. I bought LED bulbs on amazon so i could swap them with the factory ones so i could have that nice led look during the daytime. here is the link to the ones i bought on amazon.
[ame]http://www.amazon.ca/gp/product/B00C...?ie=UTF8&psc=1[/ame]
Here is the problem: when both LED bulbs are installed, neither of them turn on during the day driving around. They do work when I use the highbeams ( for my car the DRL and high beams are the same bulb apparently).
What's weird is that when I put one of the factory bulbs back in, the other LED will start working. Here are some pictures to help explain my situation.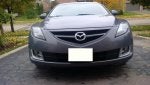 in the front view of the car you can see the led is working on the right (drivers side) and i have the factory bulb installed on the left(passenger) side. again if i put both leds in neither of them work!!
This is what i've tried to solve this :
- bought a completely different brand of H11 12V LEDS, same problem.
-Measured the voltage output from the wiring harness from both sides (both above 12 V)
Please help thank you!
Thanks everybody.